WA vaulters set off for Nationals in SA!
The countdown is on for the National Vaulting Championships, and the WA team is preparing for the 2500km trip to Mallala Equestrian Centre in South Australia!
The 18th Australian National Vaulting Championships is set to be held over four days from the 3rd of October to the 6thth of October. Held in a different state each year (2013 was at SIEC in Sydney, 2015 is to be in Queensland), the Nationals caters for all levels of competition, from the beginners at Preliminary, to the internationally ranked competitors in the Open classes.
This year, WA will be represented by a group of talented vaulters from Ripplebrook Equestrian Vaulting Academy ranging from 8 to 21 years of age - Abigail White (21), Kimberley Fowler (18), Cambridge Keane (14), Kieran Halliday (13), Claudia Leahy (12), Summer Donato (8) and Skyla Tothill (10), with Kay Fowler as lunger and all vaulting on Ima Scotch Seeker (Arrow).
The team also has a small team of supporters on hand to help prepare the vaulters during competition. Members of the support team include Suzanne Battistessa (chef d'equip) and Jane Beaverstock (groom/training lunger), as well as parents and friends who will be doubling as hair stylists, make up artisits, nutritionists and cheer squad over the 4 day competition.
As vaulting is still a small sport within WA, the vaulters are not required to qualify, but rather vaulters from both metropolitan and south west areas are encouraged to attend. All efforts are made for competitions to be accessible to everyone. It is a requirement that vaulters attend regular training sessions, so as to not only be competitive within the level that they have chosen, but also to ensure safety to the vaulter and horse. Ripplebrook Equestrian Academy have run clinics with interstate coaches, vaulters and lungers to ensure improvement across all facets of the sport. Extra weekly training sessions are held to provide a higher level of coaching to those in the squad. Because of the inclusivity of the National Championships, any vaulter at any level is able to attend, however we do hold in-club grading days to qualify vaulters for the level which best suits them.
The team will be competing in three types of events during the competition: Individual, Pas De Deux (pairs) and Team.
When asked what the team hopes to achieve during their trip to the National Championships, Jane Beaverstock (team groom and training lunger) said "Naturally, we all want to enjoy our time in Adelaide, catching up with our vaulting family and showing each other how far we have come in the last 12 months. Our priority is for a safe journey there and back with our horse, no injuries, and good success competitively. We would like to see improvements in the scores of our vaulters and horse, and hope that areas which were lacking, brought to our attention in the judge's comments last year, have been improved. We also hope to achieve recognition from interstate clubs, which we are to some extent doing, with one of our vaulters being asked to compete with an interstate team in the 2013 Championships, initially as a reserve, and then in competition, however we would like to see an increase in this behavior."
The Nationals is as much a networking event as it is a competition, providing a platform for growth of the sport through both vaulters and coaches/trainers with forums, dinners and social events included in the 4 day program. Nationally and internationally, vaulting is seen to be very community-orientated, and a huge emphasis is placed on helping smaller clubs to grow, and increasing the standard of those already performing at higher levels.
Equestrian WA wishes the team a safe trip and all the best of luck for the competition.
If you would like to find out more about the sport of vaulting in WA, please contact Jane at [email protected].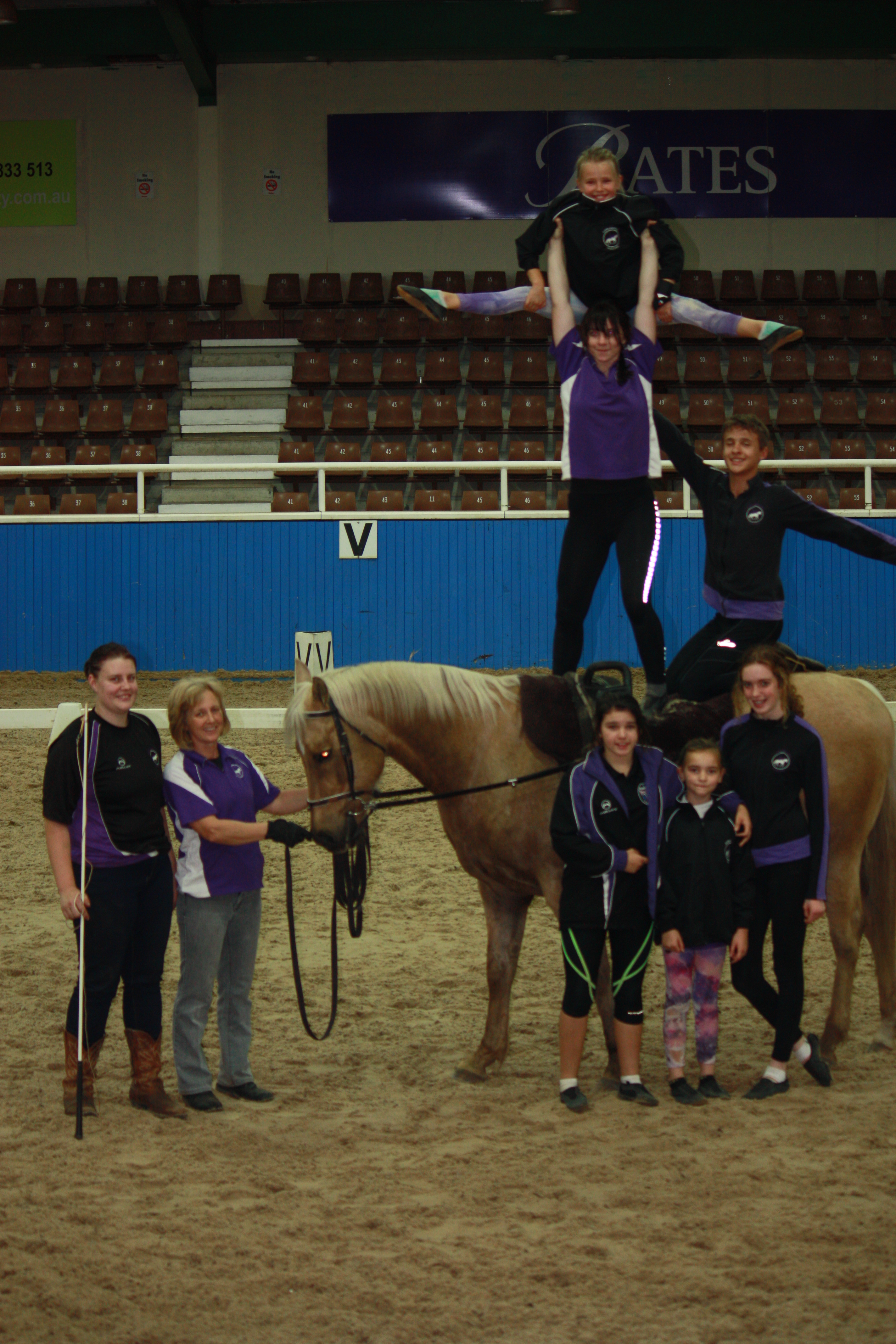 On the horse "Ima Scotch Seeker" (or Arrow): Skyla Tothill, Kimberley Fowler, Kieran Halliday.
Standing (L-R): Jane Beaverstock (Lunger), Kay Fowler (Lunger), Claudia Leahy, Summer Donato, Cambridge Keane.
Absent: Abigail White.