National Interschool Championships Wrap Up
Interschool competition is quite unique as no other EA competition runs so many disciplines at the one venue at the same time. This year SIEC was indeed pushed to its limits with 400 horses and 300 campers onsite. Thank you to all of the staff at this amazing venue for looking out for everyone over the duration of the competition. A huge thank you must be given to the sponsors and event organizers for running such a great event. Andrea Webb and the Event Committee never stopped. Congratulations to all of the competitors on some fantastic results - even those outside of the prize giving.
WA Show Horse Riders were off to a great start even before the Interschools Event began, winning Championships in the lead up Show Horse Events. Olivia Lodge went Reserve Champion Rider 17-21yrs and Reserve Champion Ridden Thoroughbred and Abbey Green won Reserve Champion Rider on their Pool horses at Menangle. Meanwhile at the 2015 ENSW Show Horse Championship, Lauren Rowe went Reserve Champion Junior Rider, Champion Open Medium Hunter and Champion in all her event,  while Ella Jones went Reserve Champion Girls Show  under 14h , under 14 years Reserve Champion handler 9-12years and Top ten rider 10-12years on her pool pony. Brooke Sakich was also Champion rider and Champion Hack on her lovely black Pool Horse at the Hawksbury Showgrounds.
The Opening and Closing Ceremonies were certainly a sight to behold as the Indoor arena filled with a sea of colour as all State Teams paraded with their banners, flags and mascots in tow. Tayah Andrew as WA's Queen Bee Mascot certainly stole the show cartwheeling in ahead of the Team! WA Captain Astrid Grov and Vice Captain Madison Gielen also did a great job keeping everyone motivated with WA Awarded the Team Spirit Trophy!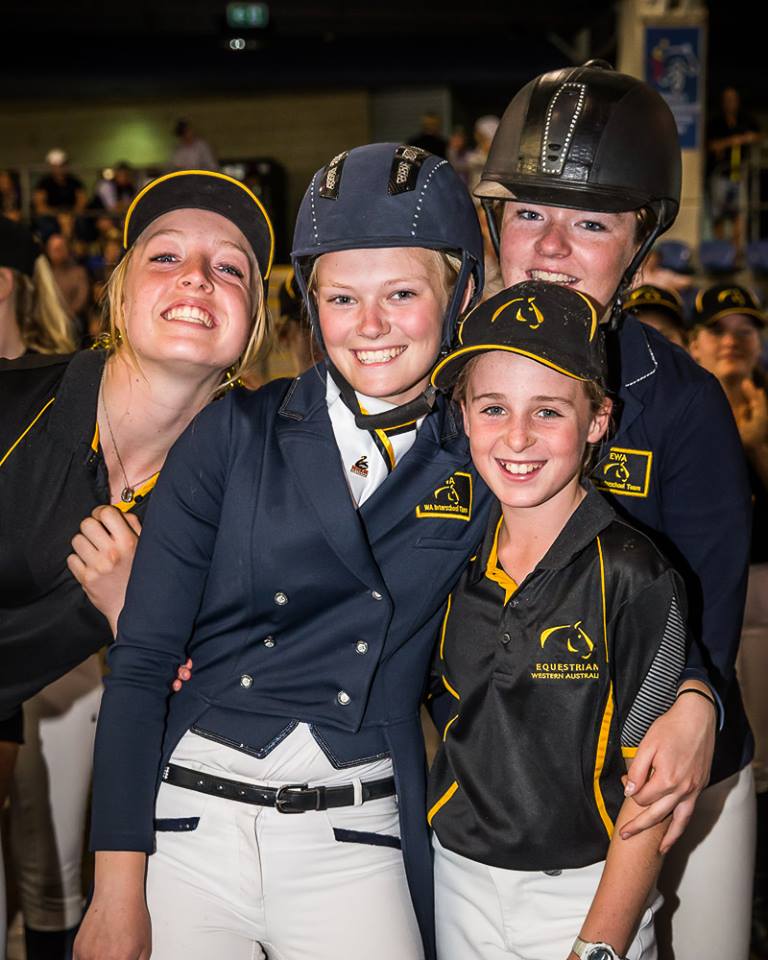 Team Captain Astrid Grov (middle) and Vice Captain Madison Gielen (left) kept team spirits high throughout the competition.
A quote from EA Chair Judy Fasher "From you all we have across all disciplines our next Australian Champions, Australian representatives and hopefully, the greatest of all, an opportunity at Olympic level. Have a great week."
Thank you also to our wonderful team of parents and supporters who pitched in to help wherever needed. Michelle Gaasdalen for embroidery on Team Saddle Cloths, Eddie Welsh the keeper of the Team BBQ and Lisa Rowe and Corrie Andrew who were kept busy tirelessly plaiting many of the Team horses each day. It was wonderful to see so many Dads accompany the Team this year too.
Thank you also to Sharon Welsh for overseeing Horse Transport arrangements and keeping everyone updated wherever possible particularly before the Event even started. Combined Horse Transport again did a wonderful job looking after the ponies and even had a Vet on hand awaiting their arrival at Diamond B Farm where many were staying.
Finally thanks to our wonderful Team of highly experienced Coaches. Liz Tollarzo, Colin Chantler and Christine Bates. Our riders were so lucky this year to have support from such Professionals who all and worked tirelessly warming up riders and helping them to overcome challenges that arose during the week.
Liz commented that she was so impressed of how well you all went whether placed or not.
"Everyone I saw were fantastic in their dedication and persistence whilst keeping the welfare of their horse first and working as a team representing WA spirit. Some of you had it particularly tough and it made me so proud to see how well this was handled despite disappointment at times. I hope I assisted wherever I could and it was of use. Everyone at this Interschool competition has absolute right to be proud of how they went in my eyes and under the scrutiny of the other teams. A big thank you to Jennine and EWA, and the amazing parent support which I saw everywhere. Well done to all and travel safe!"
While WA competitors placed in many classes, a few notable performances included those of Eventers Emma Cumming and Jaleesa Gaasdalen. Emma leading after the Dressage lost a few time penalties in the XC Phase but then held her position jumping clear for a Reserve Championship in the Ev 80 Class. Emma was also successful with a second place in the Intermediate Novice 2.2 Dressage plus picking up a 3rd in the Rider phase of the Secondary Working Hunter.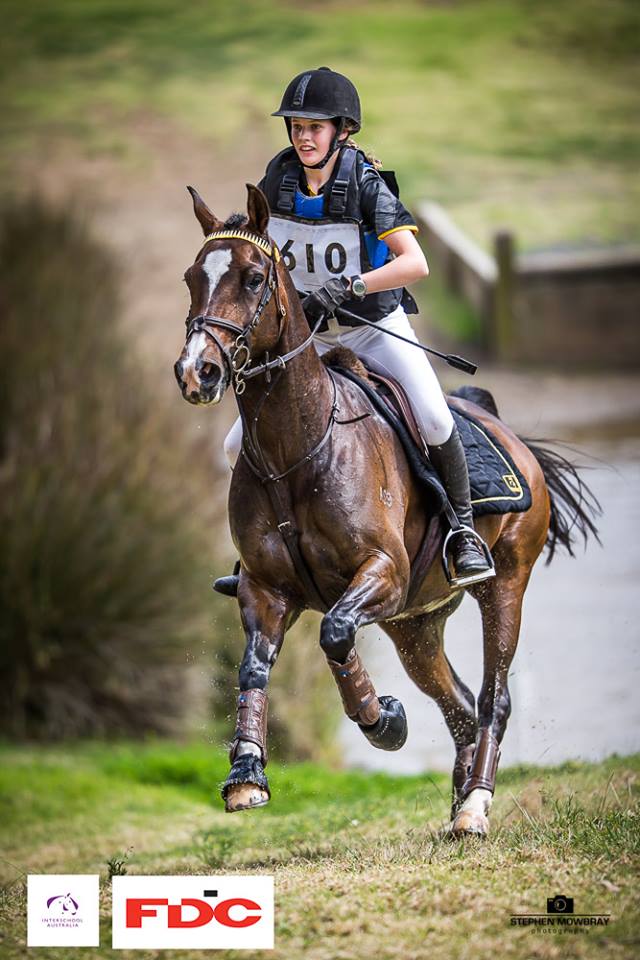 Emma Cumming in the EvA80
Young Jaleesa Gaasdalen and her little "pocket rocket" Teifi Valley Bevan had some wonderful success while away. They came 3rd in the Ev 105 Championship and picked up a number of placings in the Showjumping. Following the Interschool Championships they then went on to win the 90cm Pony Jumper Grand Prix and placed 1st in the junior 2 phase at the Australian 2015 Saddleworld Youth Showjumping Festival in Camden NSW.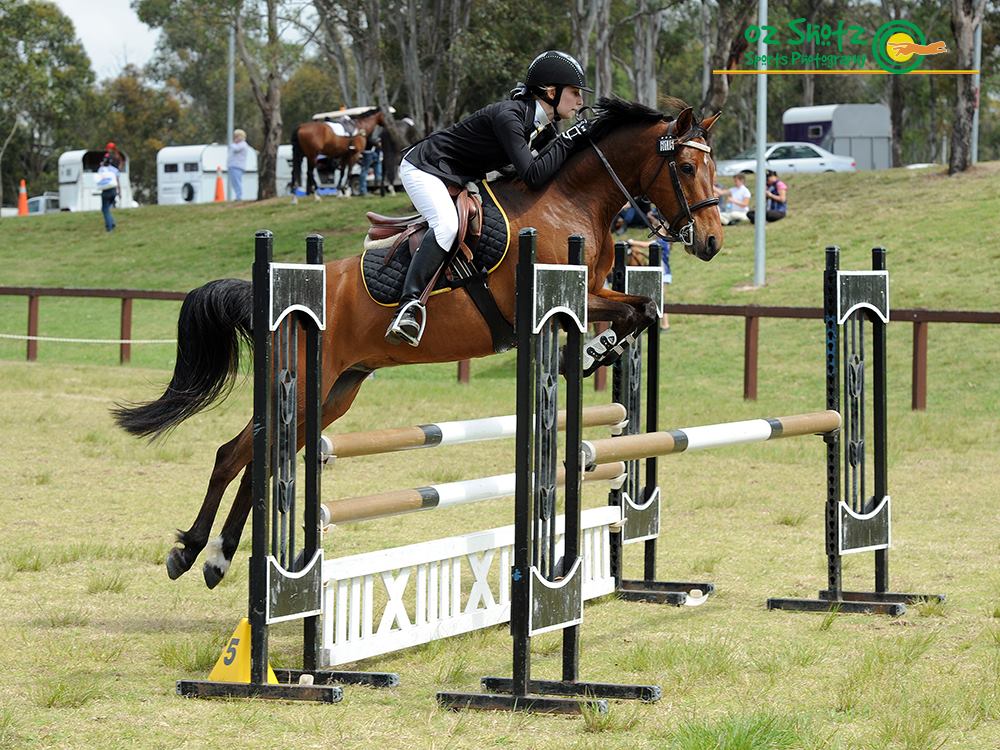 Jaleesa Gaasalen in the 90cm Showjumping
Dressage riders Astrid Grov and India Levene also wowed spectators with their lovely Freestyle tests on Day 2 in the Indoor.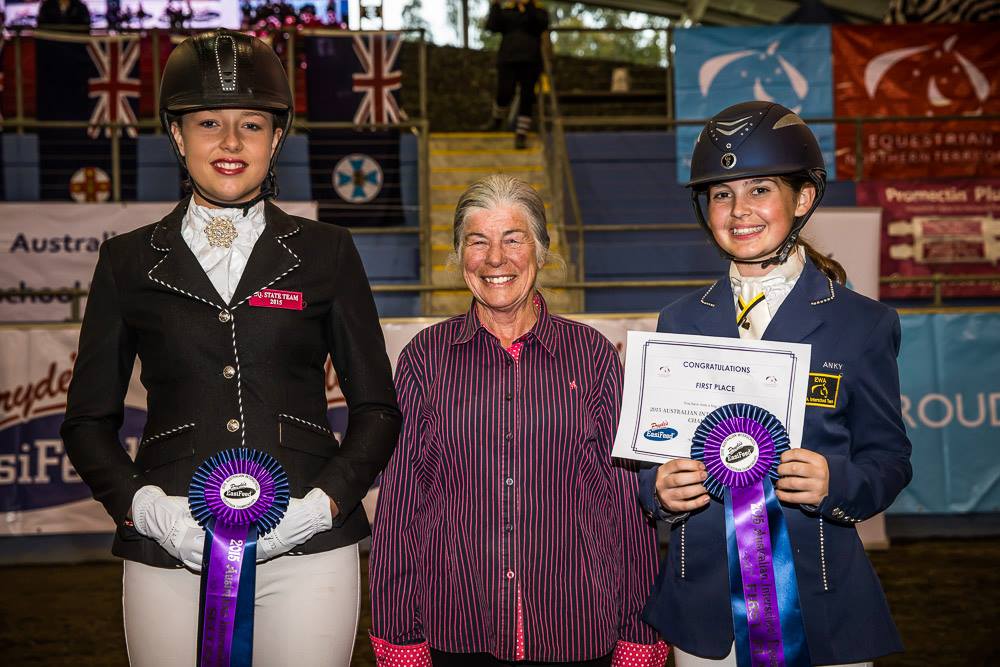 India Levene (right) placing 1st in the Novice Freestyle
Many of our Primary riders held their own and picked up multiple placings in more than one discipline at this their first National Interschool Championships. It was lovely to see our Senior Team members taking care of the little ones and making them feel supported.
With 34 team members and 38 horses, there were inevitably a few disappointments along the way. We had three horses scratch from the evemt and two falls in the showjumping phases.  Despite everything, those riders should be very proud of themselves. They showed courage and handled the disappointment so well with a maturity beyond their years and putting the Welfare of their horse first above all else.
As WA Team Manager I was immensely proud of everyone's dedication and hard work and congratulate you all on your efforts. It was a wonderful experience to again be associated with such a fabulous group and making many new friends along the way. Bring on 2016!
- Jennine Thomasson