All photos courtesy of Waylib Sports Photography and Silverfern Photos
Wooroloo makes welcome return for WA riders
Wooroloo Leader Equine CCN 22-23 August 2020
A bumper entry of over 350 combinations descended on Wooroloo Prison Farm for the Wooroloo Leader Equine CCN (22-23 August). Held on the prison grounds by kind permission of the Department of Corrective Services, the volunteer committee of Perth Horse Trials Association was widely praised by competitors for working incredibly hard to pull together a COVID-safe event in a short time frame.
Emily Early nailed a clear round in the showjumping to top the Winteringham Recruitment CCN2.5* class with the "cheeky" 11-year-old off the track Thoroughbred, Clear Distinction. "Our strength is definitely cross country - his slightly arrogant attitude is what makes him so good cross country," explained Emily, a 23-year-old psychology student from Narrogin.
Sixteen-year-old Wooroloo first-timer Chloe Gee topped the Ovarit Jumps EvA95J with her recent birthday present, Barz Open. The nine-year-old off the track Thoroughbred was purchased by her grandparents, Nan and Pop Hank with Thora Alssema in July. "From my first ride on Barz Open ('Doodle'), I fell in love with him. He is very much a people horse and is settling into the family very well," explained Chloe, who lives in Mandurah. "The highlight of the weekend was camping with some of my best friends and laughing until our stomachs hurt around the campfire. Winning the event was pretty awesome! It was my first ever time competing at Wooroloo and I definitely know what all the hype is about, it was a very wonderful event and I am hooked."
Kristen Atkinson was another rider quick to find a tune out of a new horse - the 18-year-old triumphed in the Southern Stars Saddlery EvA95 section with Jaldary Wolkensun ('Sunny'), a 12-year-old Holsteiner purchased the week before the event. "I have been riding Sunny for 6 weeks and we purchased him the Thursday before Wooroloo. It was our second event together, and Sunny didn't put a foot wrong all weekend," explained the Swan Valley teenager, who works for Wooroloo course designer Alan Campbell.
Jaime Hall returned to her happy hunting ground to take the dedicated Off the Track EvA95 class with her 2019 Wooroloo winner, Happy As. She also posted a first in the Living Roses EvA65B with Hey Doc.
Wooroloo's undulating cross country courses rode beautifully on Sunday, with excellent ground conditions and bursts of warm sunshine.  The courses were designed and built by Alan Campbell in consultation with regular Wooroloo course designer Wayne Copping, who sent maps and notes from his base in South Australia as COVID restrictions prevented him from travelling. Many hours of hard work building the courses alongside Alan Campbell gave Tegan Cook an eye for the best lines, and she was a popular winner of the Gidge Rural EvA80A riding Ben.
Vale Veterinary and Consulting Services CCN1* winner Sue Cartledge was thrilled the get around the cross country track only five seconds over the time allowed: "Surviving the downhill gallop after the water to brake and turn to jump the apex was a highlight!" said the 52-year-old from Toodyay, who was victorious with her 12-year-old Australian Warmblood, Bamboo Textiles Roulette.
Perth student Katrina Reynolds also had a storming cross country round to win the Bates Saddles CCN2* with her 11-year-old off the track Thoroughbred, Phoenix Quill. "Tackling the quarry for the first time without hesitation was definitely a highlight, and a childhood dream come true!" said the 20-year-old occupational therapy student. Olivia Shore and Eliva Corduroy were the winners of the tightly contested Brigid Woss-sponsored CCNJ1*.
Leader Equine's generous title sponsorship included the provision of stylish Horseware Australia rugs to all class winners. Leader Equine, the leaders in horse care and wear, is a proudly Australian owned company that distributes leading global equestrian brands including Horseware Ireland, PS of Sweden, TRM Supplements & Epona Grooming Products. Off the Track WA also provided welcome sponsorship to enable the provision of dedicated classes for off the track horses at both EvA80 and EvA95 levels. Hygain provided feed vouchers to all riders placed in the top three after the dressage phase.
Results
Perth Horse Trials Assoc. EvA65A
1st Ebondale Soprano - Jade Moody 26.2
2nd Kellerains Chillie Storm - Bethany Rainbow 35.0
3rd Solitary Summit - Amy O'Neill 37.2
Living Roses EvA65B
1st Hey Doc - Jaime Hall 25.9
2nd Clare Downs Hell's Bells  - Michelle Moore 30.3
3rd Flamenca Del Diablo - Tracy Canterbury-Walker 38.5
Horseland Midland EvA65J
1st Tyalla Oriole - Emily Carpenter 23.3
2nd Renway Prince Meric - Tazmin Smith 26.2
3rd Trapalanda Downs Jasper - Sarah Inglis 29.1
Gidge Rural EvA80A
1st Ben - Tegan Cook 24.7
2nd Primrose Court I'm So Special - Bethany Rainbow 29.0
3rd Murray River Spring Melody - Michelle Moore 33.8
Milne Feeds EvA80B
1st Omega Park Solitaire - Ashlee Roberts 25.3
2nd Windermere Odyssey - Joy Gray 30.0
3rd Legal Chase - Jessica Manson 30.9
Off the Track WA EvA80
1st Everest - Katie McGlinn 28.8
2nd Starsong - Laurelle Hayes 29.1
3rd Yoicks Masterclass - Alexandra Flannery 32.2
BGC EvA80J
1st Snowy River Country Girl - Ashleigh Williams 24.7
2nd Solomons First Light - Leah Fewster 27.5
3rd Marglyn Masquerade - Tazmin Smith 30.0
Southern Stars Saddlery EvA95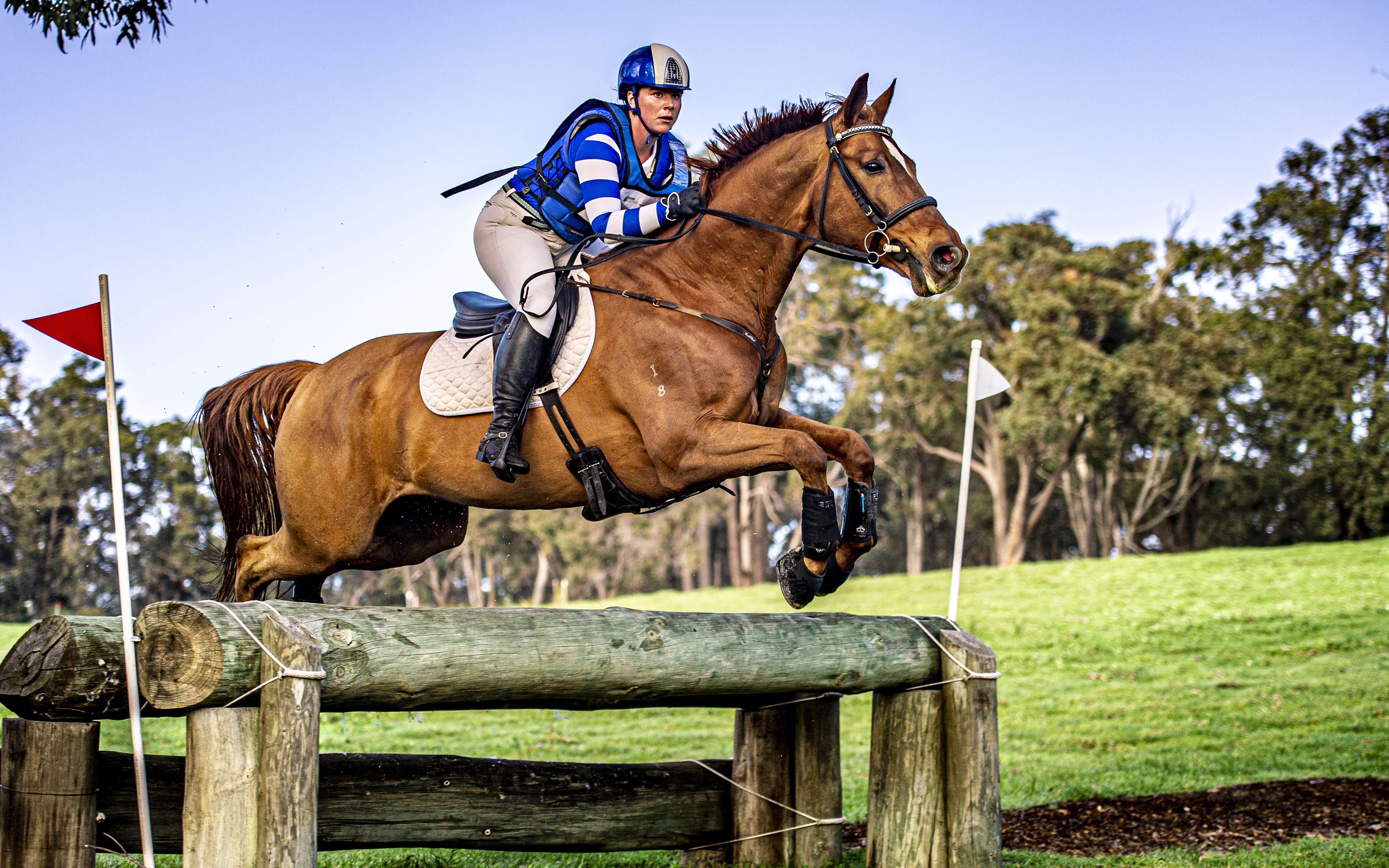 1st Jaldary Wolkensun - Kristen Atkinson 29.9
2nd Chevalier Park Captivate - Suzanne Smith 30.0
3rd Hansie Kronje - Georgia Lowry 30.8
Off the Track WA EvA95
1st Happy As - Jaime Hall 28.7
2nd Pure Vision - Semoane Brown 34.2
3rd Newhope Sparks Fly - Nicola Lachenicht 34.5
Ovarit Jumps EvA95J
1st Barz Open - Chloe Gee 23.4
2nd My Charvae - Freyja Carlberg 25.7
3rd Ringwould Advocat - Brooke Kenny 25.8
Vale Veterinary and Consulting Services CCN1*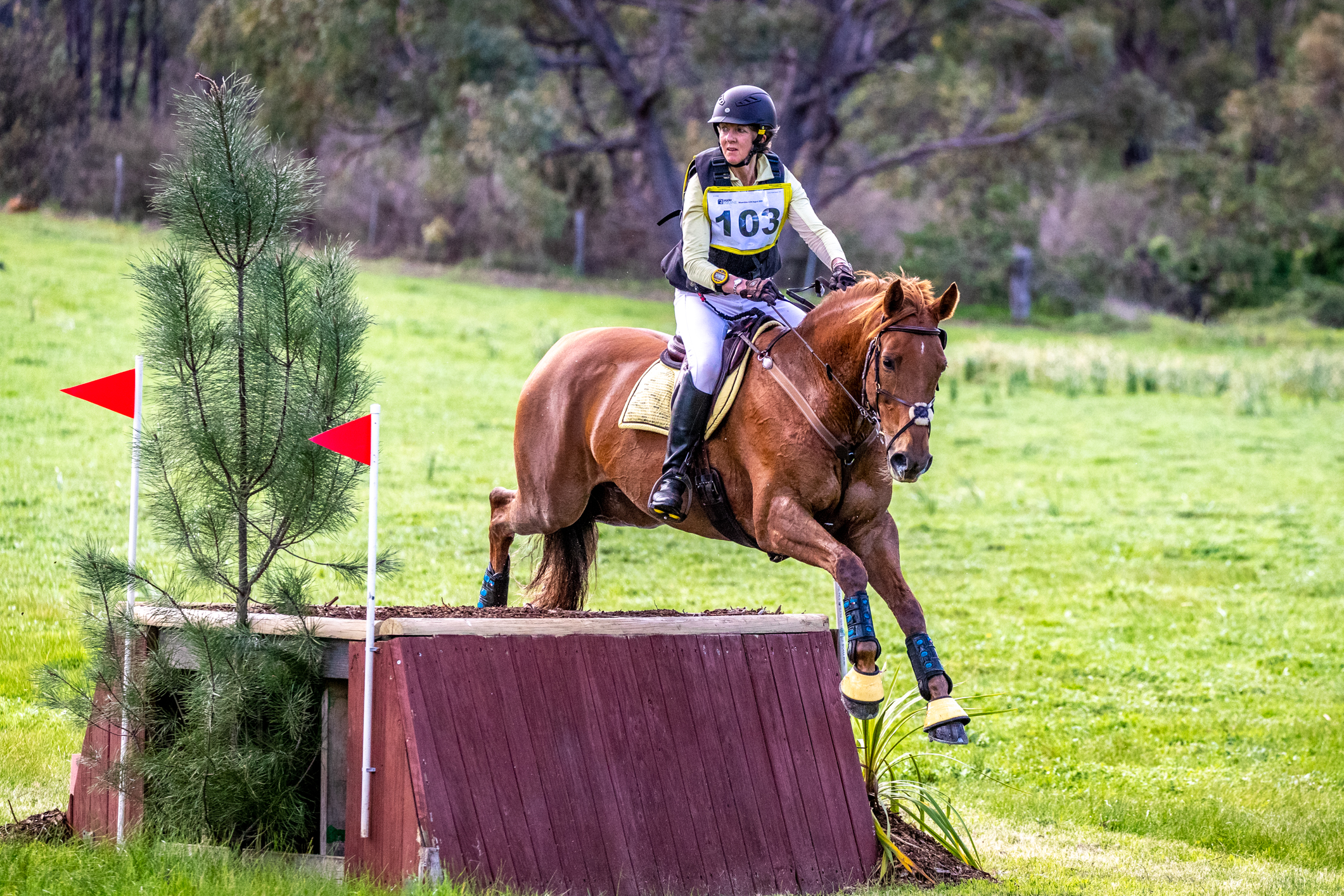 1st Bamboo Textiles Roulette - Sue Cartledge 28.8
2nd La Nina - Susanna Weedon 31.0
3rd Canterbury Tradesman Emily Gray 31.3
Brigid Woss CCN1*J
1st Eliva Corduroy - Olivia Shore 30.8
2nd Star Of Kingston - Kate Smith 31.0
3rd Parkiarrup Showtime - Tara Harding 33.8
Bates Saddles CCN2*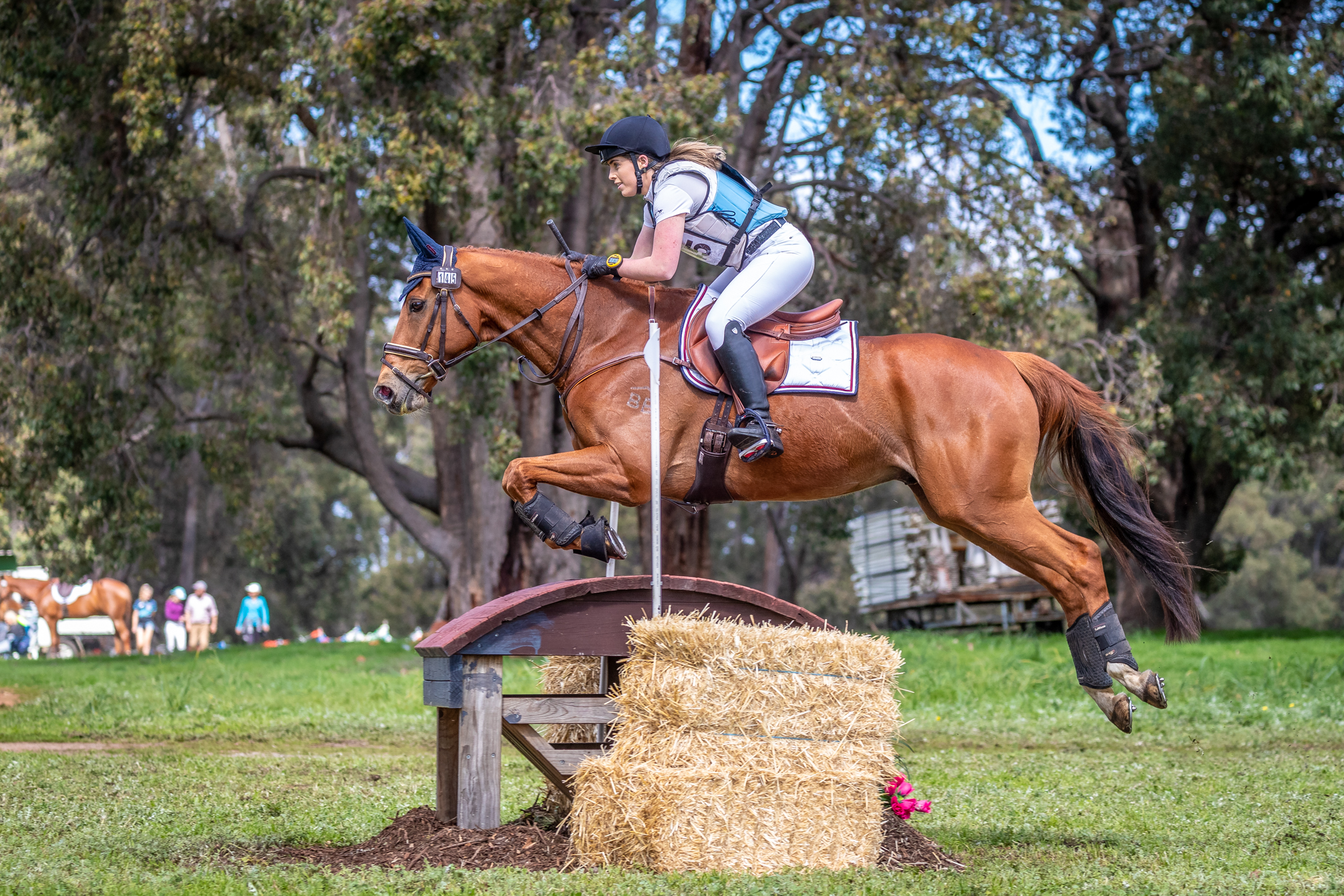 1st Phoenix Quill - Katrina Reynolds 34.6
2nd ESB Irish Nymph - Mia Mercuri 40.6
3rd Vintage Valley Annabeth - Jaleesa Gaasdalen 44.8
Winteringham Recruitment CCN2.5*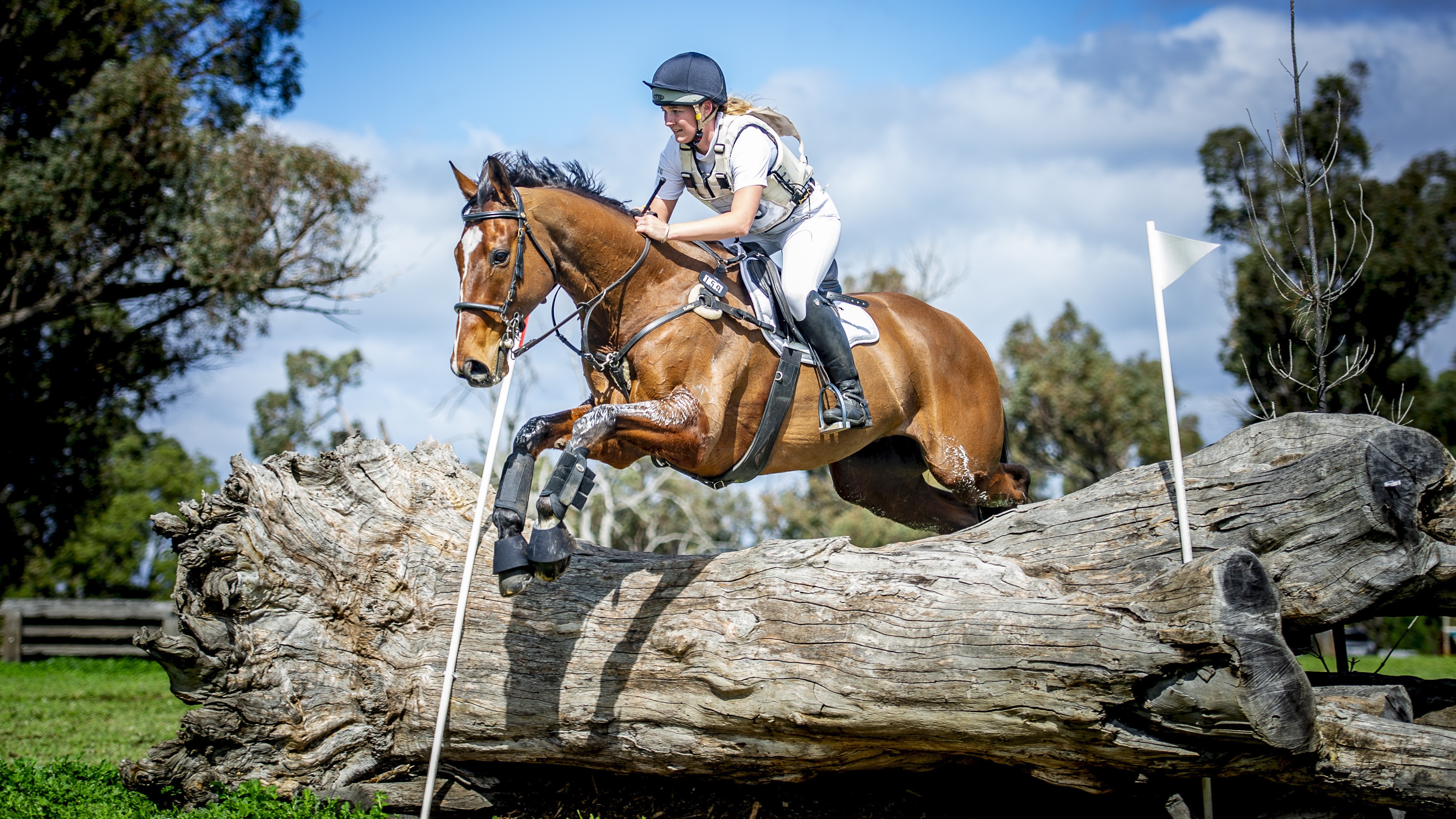 1st Clear Distinction - Emily Early 34.3
2nd Kdale Mr Knightly - Laurelle Hayes 40.3
3rd Sandros Salute MW - Kenya Wilson 41.5