WA National Interschool Team Report & Results
With over 400 competitors from all over Australia, the 2016 Equestrian Australia Godolphin Australian Interschool Championships was one of the largest events held at the Sydney International Equestrian Centre alongside the 2000 Sydney Olympics.
The event began on Sunday 25 September with the Opening Ceremony. All of the teams looked fanstastic in their team uniforms, with every state stepping up to the team's challenge of who was the best dressed state. The teams consisted of:
NSW - 107 riders
VIC - 111 riders
QLD - 101 riders
SA - 44 riders
TAS - 12 riders
NT - 8 riders
WA - 50 riders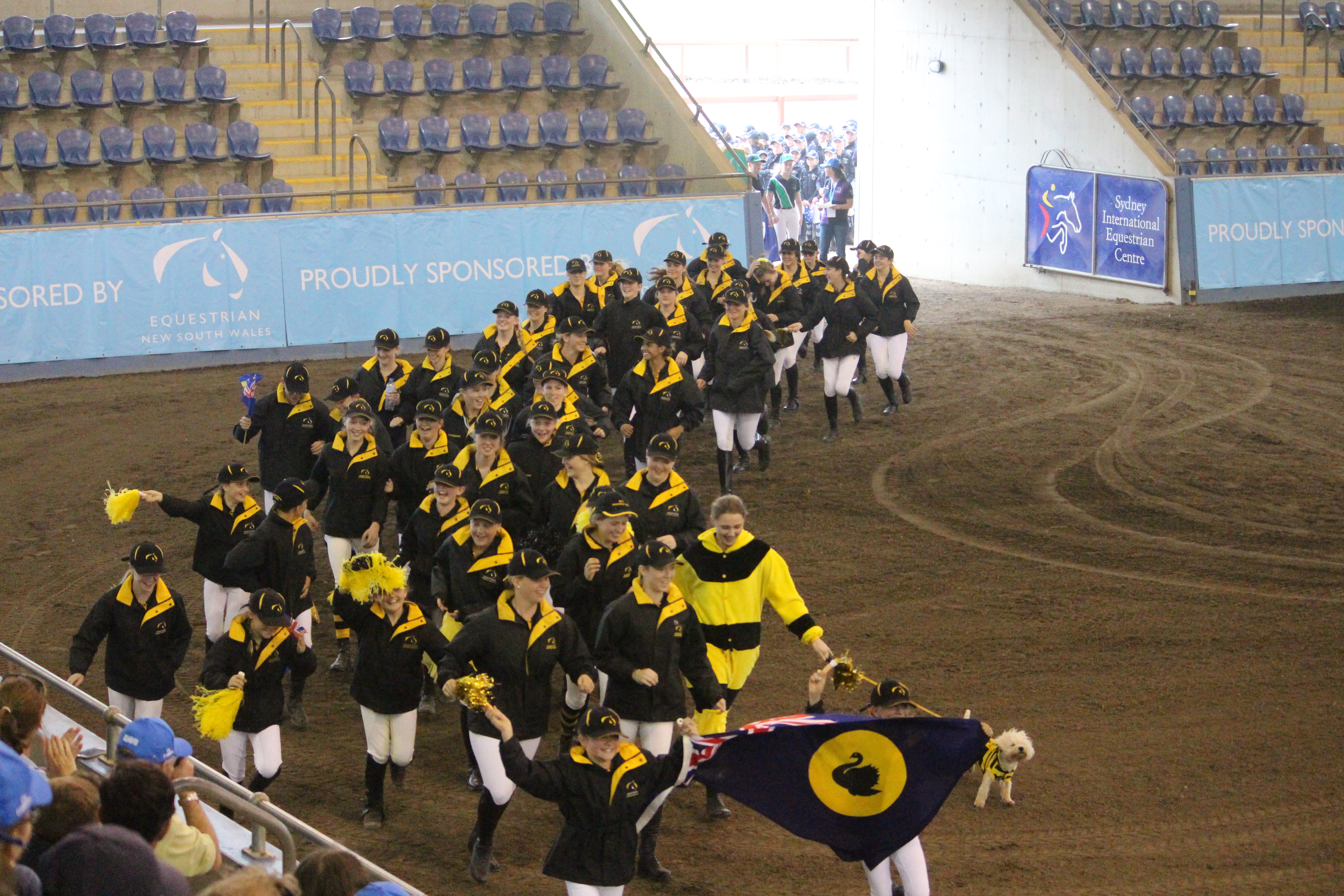 Photo: WA Team at the Opening Ceremony
Monday saw the beginning of the Show Horse classes, with some of Australia's best show ponies and horses parading for the judges. The weather was certainly wonderful, allowing the show horses coats to glisten in the sunshine.
On Tuesday we had the Combined Training and Eventing Dressage. This year Combined Training was a new event for the Championships and it was very well received by all states. The results were very close after the dressage phase, with many of our WA team showing that our dressage scores would be hard to beat. The jumping phase was then welcomed by many a spectator who watched closely to see who would ride a clear round.
Our Eventing competitors rode really well. The cross country course was outstanding again this year. Ella Miller rode well coming first place in the dressage and cross country phase but then had a fence down in the jumping phase. WA's overall Team Score for eventing put us in 6th Place with Justin and Lauren Sams-Hayes scores. All riders performed well overall and I are extremely proud of everyone.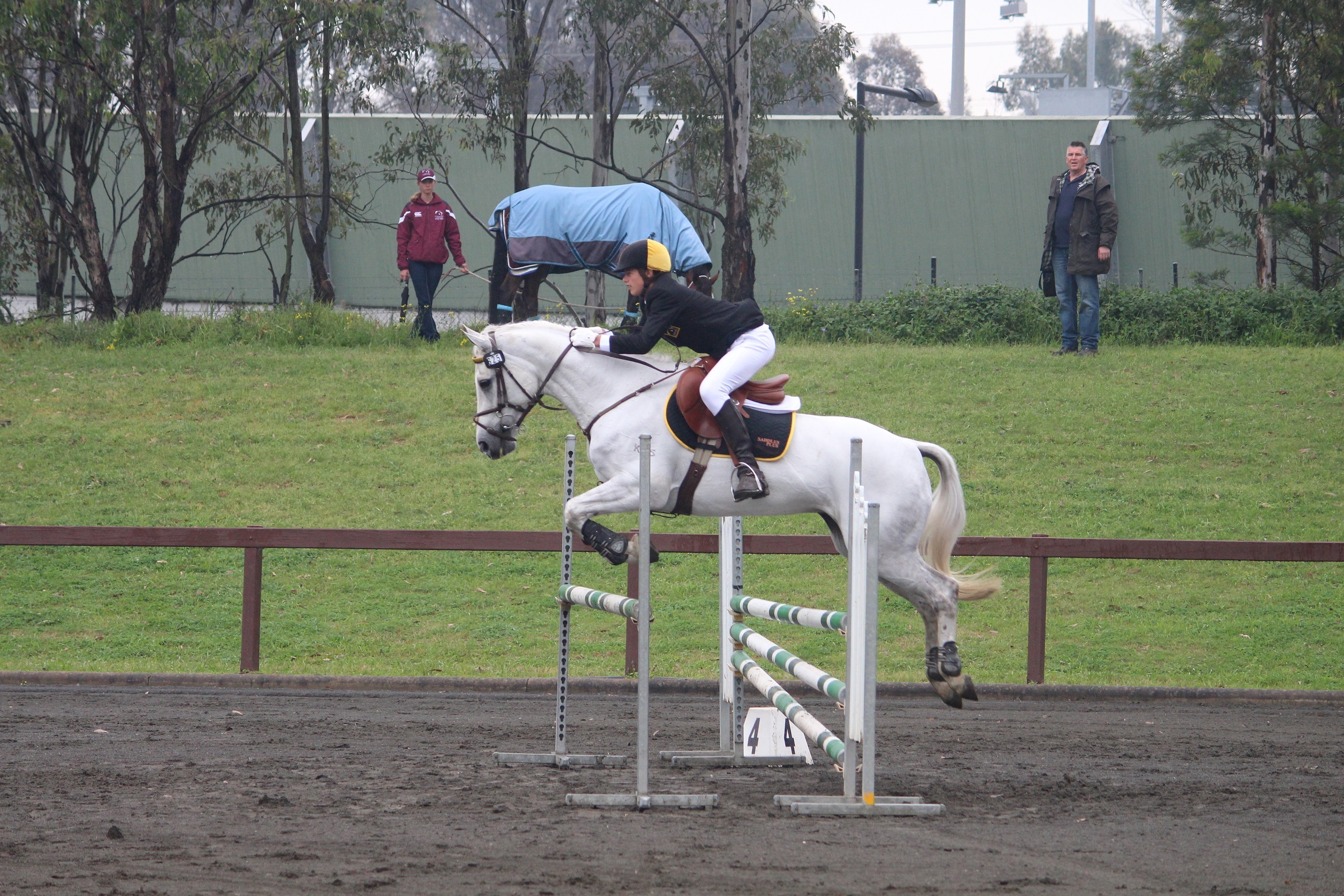 Photo: Justin Sams-Hayes and Welts Vanderdream
The Jumping arenas were alive with colourful jumping fences on Tuesday, Wednesday and Thursday. The jumping was spectacular with great results for our team, albeit with some nail biting rounds at times. Angus Donovan had some outstanding jumping rounds proving that WA has many top junior riders.
 Photo: Angus Donovan and Noblewood Park Conchetta
 Wednesday and Thursday was the Dressage and the overall standard was outstanding. The pool horses that were chosen for WA were matched to their riders perfectly. Every rider had a smile on their face when they finished their tests with great results at the end.
Thank you to all the event sponsors and organizers, especially Andrea Webb - you never stopped! All your support was wonderful and the efficient running of this huge event was amazing. This year found the NSW office sourcing a mammoth 25 pool horses for our WA competitors which must have been a difficult job in itself. Thank you Tina for finding our team an amazing selection of horses from around the NSW state.
Our team's sponsor this year was Saddles Plus, who kindly supplied the team saddle cloths that looked fantastic on all our horses. Thank you Saddles Plus for supplying these.
Thank you to Ann Miller. You were wonderful to drop everything to be by Olivia Kennedy's side in hospital with her unfortunate situation. Olivia was unfortunately kicked in the arm and leg by her pool horse and was unable to compete this year. Olivia you are a trooper and thank you for being there for the team for the rest of the week.
Thank you to our Team Captain Ella Miller and Vice-Captain Brooke Sakich for organising the team at our ceremonies and for being positive rolemodels to the team.
Thank you to all the parents and supporters who helped when needed, and to Natalie Sakich for plaiting our team of horses. Your hands will need pampering now.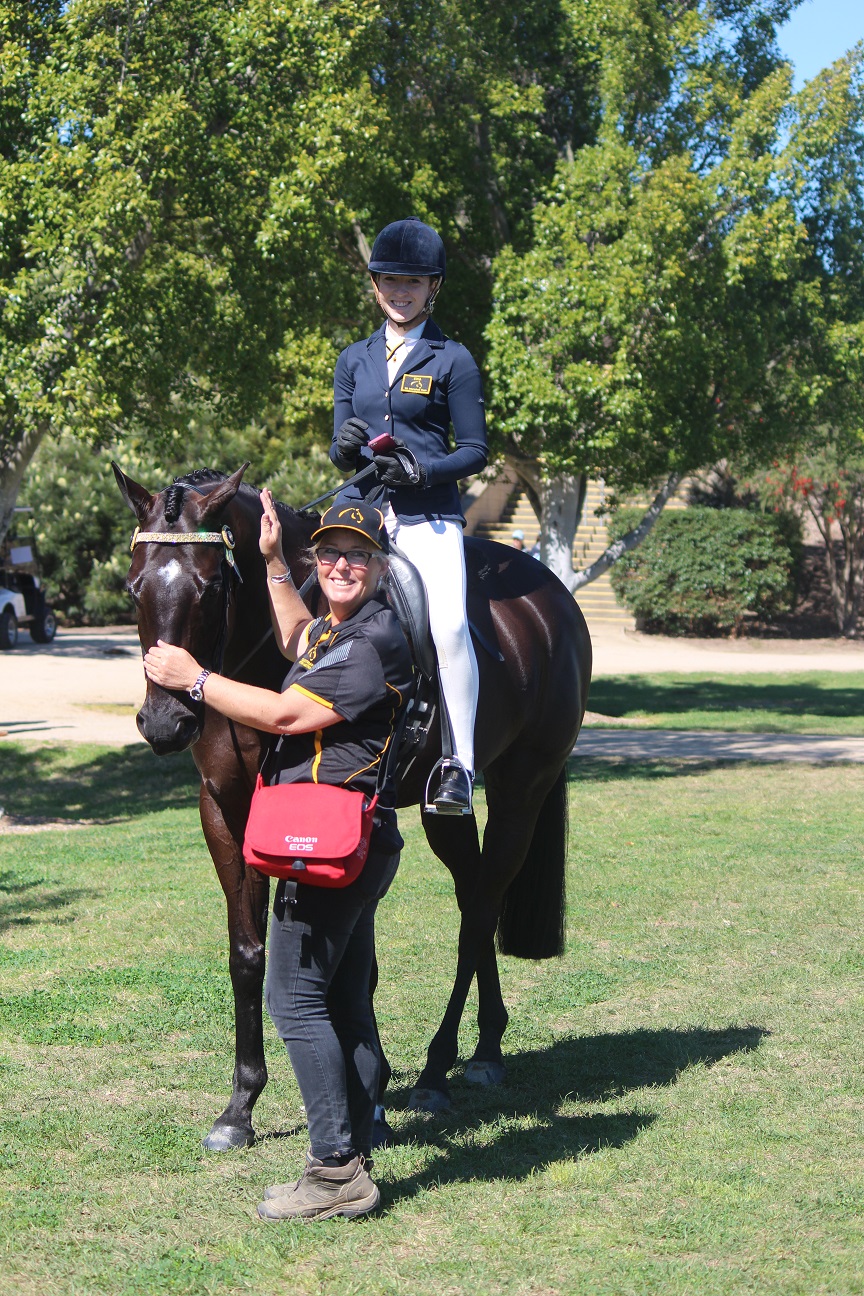 Photo: Brooke and Natalie Sakich
 Thank you to Combined Horse Transport for your professional delivery of our precious cargo to NSW and back home. Your support is greatly appreciated as always.
I would like to say a huge thank you to our great coaches Wendy Cumming and Chadd Donovan. You were both a huge asset to the team and worked tirelessly for our riders from dusk to dawn each day. This was a rather large task and you both deserve a well-earned rest. Thank you also goes to Liz Tollarzo for helping the team out in the background.
As WA Team Manager I was extremely proud of everyone's efforts. I congratulate you all on your results whether you placed or not.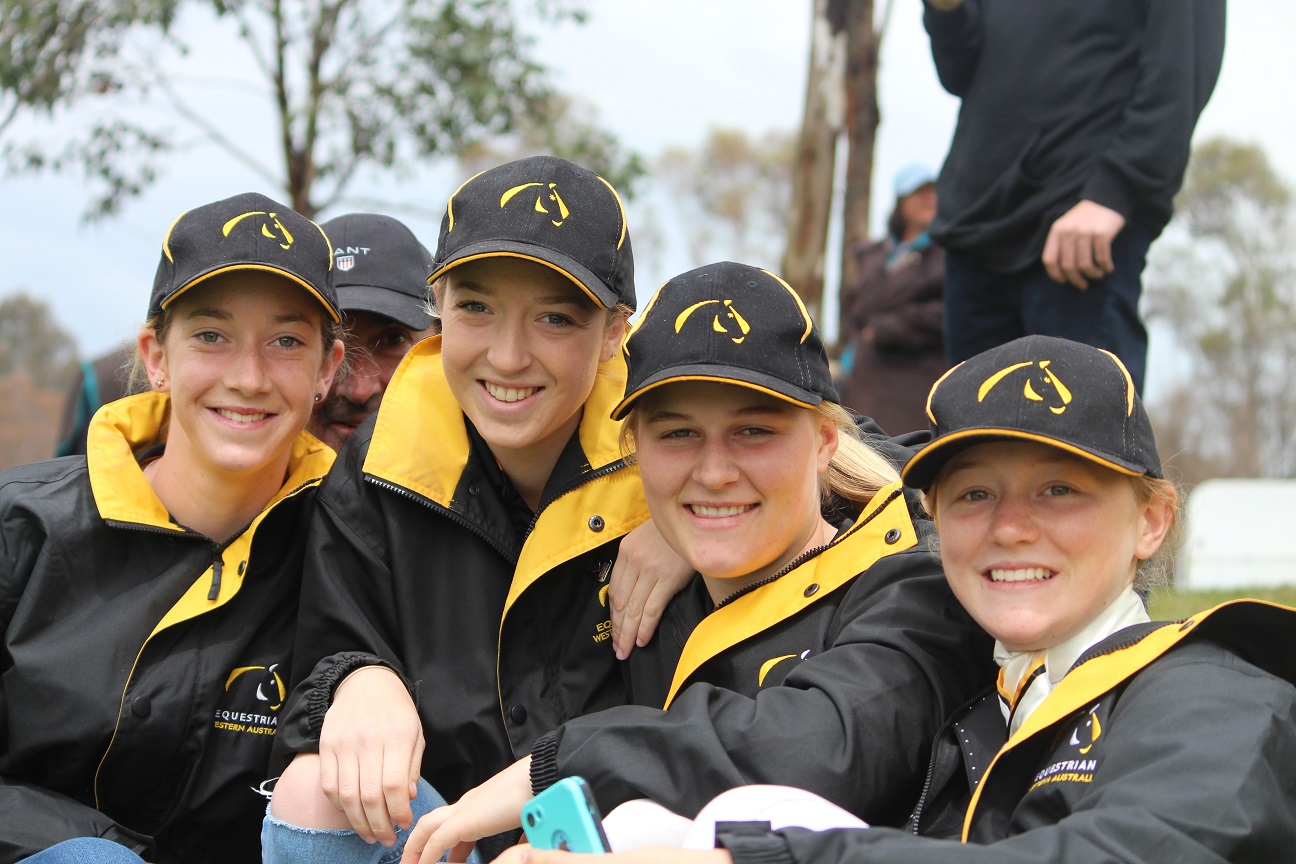 Photo: WA Team Members
WA Competitor Results
To see full results click here.
Overall State Team Award Points
WA - 4th Place
Primary Show Horse Team
WA - 4th Place
Chloe Gee, Daniel Suvaljko, Alyssa Hattingh, Abby Green
Primary Working Hunter Champions     
Chloe Gee - 3rd place
Secondary Show Horse Team
WA - 4th Place
Jaime Baker, Brooke Sakich, Louise Falconer, Sophie Appleby
Primary Combined Training Team
WA - 4th Place
Chloe Gee, Olivia Ruiz, Daniel Suvaljko, Courtney Trolove
Primary Combined Training 60cm
Reserve Champion – Chloe Gee
Secondary Combined Training Team
WA - 3rd Place
Katelyn Williams, Shanaya King, Olivia Buktenica, Jaime Baker
Secondary Combined Training 80cm
5th Place – Shanaya King
Secondary Combined Training 95cm
3rd Place – Katelyn Williams
Eventing Team
WA - 6th Place
Lauren & Justin Sams-Hayes
Primary Dressage Team
WA - 4th Place
Shania Benbow, Ella Jones, Tazmin Smith, Olivia Hawkins
Primary Novice Champion
5th Place - Shania Benbow
Individual Primary Novice 2.2 & 2.3
6th Place – Shania Benbow
Intermediate Novice Champion
3rd Place – Teagan Ettridge
Individual Intermediate Preliminary
1.2 Test: 6th Place Satinka Putland
1.3 Test: 6th Place Teagan Ettridge
Individual Intermediate Novice
2.2 Test: 3rd Place Teagan Ettridge
               6th Place Ashleigh Middendorp
2.3 Test: 5th Place Teagan Ettridge
Secondary Elementary Champion
4th Place - Madison Gielen
Individual Secondary Elementary
3.2 Test: 6th Place Madison Gielen
3.3 Test: 3rd Place Madison Gielen
Secondary Medium Champion
3rd Place – Madison Gielen
5th Place - Kjersti Grov
Individual Secondary Medium
4.2 Test: 1st Place Madison Gielen
               4th Place Kjersti Grov
4.3 Test: 6th Place Madison Gielen
Secondary Advanced Champion
5th Place – Kjersti Grov
Individual Secondary Advanced
5.2 Test: 4th Place Kjersti Grov
5.3 Test: 6th Place Kjersti Grov
Primary Jumping Team
WA - 3rd Place
Ailish Donovan, Georgina Abbott, Courtney Trolove, Olivia Ruiz
Primary 80cm Jumping Champion
4th Place – Ailish Donovan
Secondary Jumping Team
WA - 4th Place
Angus Donovan, Sophie Abbott, Angus Fraser, Tanaya Radecker
Secondary 90cm Jumping Champion
3rd Place – Sophie Abbott
Secondary 100cm Jumping Champion
6th Place – Breanna Possingham
Secondary 110cm Jumping Champion
Reserve – Angus Donovan
Secondary 120cm Jumping Champion
Reserve – Angus Donovan