Rider Spotlight: Andrew Forbes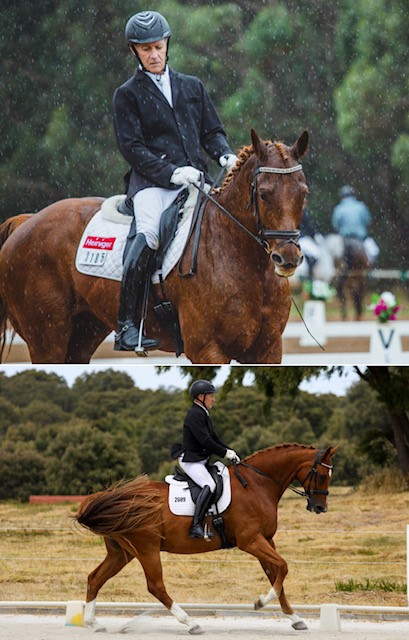 What's it like being a Para Rider?
My wife, Elissa, encouraged me to get my classification after my last lot of spinal surgery. I hadn't ridden for sometime and really missed the interaction. We have a small stud and being surrounded by horses and particularly my riding horses, not riding was like having your favourite chocolates on a shelf just out of reach. I went over to Brisbane for classification at the CDPI3* as was graded FEI Grade V. I was a bit sceptical about how I would be perceived at competitions as nothing is outwardly visible but I had no need to feel this way as the dressage community was very supportive and inclusive. I feel like one of the crowd, not out on the fringe.

When did you start riding?
As a youngster growing up on stations in The Kimberley. If you didn't ride it was a long walk! I remember my first pony was a little paint stock horse, Amy. From memory she was really quiet, in hindsight maybe she was really old too.

Tell us about your horse?
I am so incredibly fortunate with my current competition horse, Royal Magic, an Australian Warmblood gelding from Bloomfield Farm Stud. This came as a huge surprise, my then comp horse Bridlewood Dulcima had broken down with chronic foot issues a week before the 2021 State Dressage Champs, so I was pretty despondent about where I was headed. Then come late October, Elissa said to me that I could take on Magic and campaign him! Elissa and my coach, Dr Victoria Hamilton, had discussed this and the viability of us together and going as far as we could in the FEI Para Dressage world.
Royal Magic won the 2017 PennyHill Park Rising Star Award, at just over 17hh he's a big, flamboyant moving horse but very kind and willing. He's very affectionate and gets a big lick in whenever he can. We've had him since he was 3yo. Elissa backed him and trained him, competing him up to Medium. Being a Royal Hit and so big, things were taken slowly with him, he is a real thinker but once he gets it all's good.

What was it like to achieve Para Horse of the Year?
It was pretty exciting, as this was my first year back in competition. I was competing with 2 horses in the FEI Grade V Class. These tests are very technical and I was pleased with scoring over 60% consistently. Sure the classes were small but we still had to make the scores, as Para Dressage increases in exposure so will the class sizes.
I actually won the series on my Quarter horse, Spec a Red. Before you think,"a QuarterHorse in dressage", he's not downhill or mutton backed, in fact the complete opposite. His extension might not be there like a warmblood but his collection and canter are pretty sweet.

What are your short term goals?
Short term goals would be to score over 70% consistently. Magic is very capable as he was scoring this in previous classes with Elissa, now it's up to me, we will do it.

What are your long term goals?
Ok, I'm going to put it out there. Long term is to win the National Para competition and go for National Selection.

Who is the team you have supporting you?
My team starts with my wife Elissa. Firstly for the encouragement she gives me and for the opportunity to ride such a magnificent horse like Magic. She also keeps me grounded. I see the big picture, where as Elissa is an incredible details person, which makes her the dressage rider she is.
I have an incredible coach in Dr Victoria Hamilton. She took me on when I had just been 2 months back into riding and in 8 months we were competing at the State Dressage Championships scoring over 62% in our FEI Class! Vicki has the background as an International competitor, Veterinary Surgeon, biomechanics of horse and rider expert leading into her saddlery expertise.
I also work with Davis Scriven, a sports physiologist. He has set out a fantastic strength and suppleness training regime.
The WA High Performance Para Dressage Squad is very fortunate to have Heiniger Aus/NZ sponsoring us. Their products and rider apparel certainly add the professional look.
Also my best mate Macca, he's a Kelpie/Maltese Terrier. A real Hairy McClary but a great listener when things don't go too well.

How important are they to you?
As a Para rider, things can get a bit on top of you at times and Elissa is there for a bit of empathy and encouragement, to a big rocket when needed! She always has our welfare and goals in mind. It's a tough gig for her as she has her own goals to achieve as well.
To have Vicki as a coach is amazing. Her ability to work with my limitations and to find ways of making them work never ceases to amaze me. Always calm and supportive but performance orientated.
I would say that I have a great team.

Who inspires you?
I like to watch Carl Hester when I have some time. Watching the soft, calm and forward ethos of his riding is something to aspire to. I use this as a visualisation tool and theme setting for tests.

What are your biggest hurdles when riding?
Motivation has never been an issue but having Acquired Spinal Injuries from war related injuries whilst serving in the ADF, provide some daily issues. Loss of feeling and strength in my right leg and left hand plus the chronic pain associated with nerve damage can be challenging but once in the saddle the passive movement really does help ease things out. This is why Para horses are worth their weight in gold.
Distance to compete in Perth and over east is a massive obstacle. The cost of travel and accomodation is always a drain on the hip pocket, we live in Denmark which is a 6.5 hour trip hauling horses to Perth. Wear and tear on the horses, the rig and also my body has become too much and we now have our property on the market so we can relocate closer to Perth.

What do you do when not riding to help with riding?
We value some time out to take Macca to Lights Beach on the South Coast. Saltwater always helps recharge the batteries.
I also work with David Scriven here in Denmark. He is a Physiotherapist and Sports Physiologist. He has put together strength training, this incorporates gym work, stability board and dynamic stretching programmes specific to riding and working with my limitations. This is 6 days a week and on top of riding. A lot of sweat and groaning but it's what you have to do, nothing comes from dreaming about it.