EWA High Performance Camp Wrap Up
Last weekend - 28th & 29th March - almost 50 High Performance Riders descended on the State Equestrian Centre for the first of the two EWA High Performance Program Camps to be held this year.
DAY 1
Day 1 of the Camp was a combination of mounted Skill specific sessions in the morning followed by a series of unmounted Presentations upstairs with Coaches, Riders, Officials and experts in their field.
Riders looking to improve their scores in the Dressage arena were able to book a 30 minute time slot on the International Arena with Pollyann Huntington. Pollyann is an FEI 4* Judge, 2* TD ,  EA NCAS L2 Eventing Specialist & Coach Educator. She judged a test and then spent time discussing and analysing test movements and offering advice on corrections. This was particularly useful for Event riders preparing for the W.A.Y.E.R. CIC 3*** Olga Reveler Memorial this coming weekend.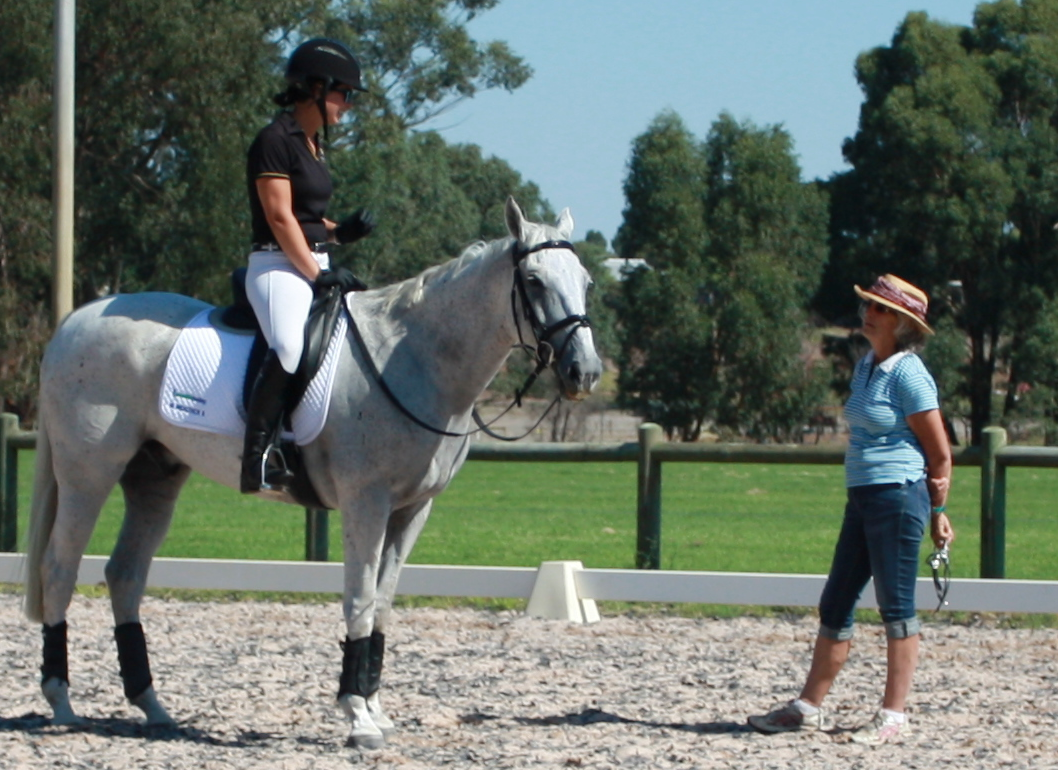 Vaulters were also privileged to have Coaching from Lynette Lynch who is an EA NCAS Level 2 Vaulting Coach, Coach Educator from NSW. Eight vaulters from rural and metro WA attended the High performance Cam          
The first session focused on skills and techniques. Lyn watched the vaulters in their warmup, observing how they moved.  She discussed with them the importance of being aware of imbalances so to prevent injuries and to be softer on the horse. Harmony with the horse is the essence of vaulting. With exercises on the barrel following onto the horse it was obvious the vaulters understood and improved the feel of their movements.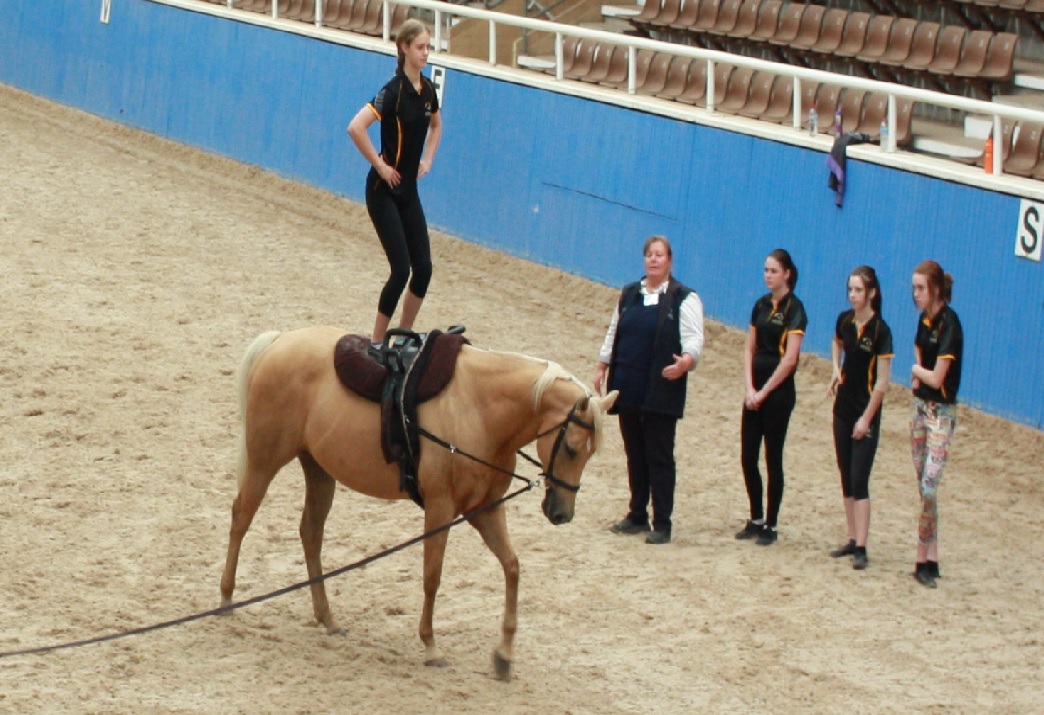 After lunch Squad riders consisting of Vaulters, Para- Equestrians, Eventers, Dressage and a few Show Jumpers then attended the variety of High Performance Pathways lectures upstairs. Sessions offering different aspects of involvement in an equine sport was a new experience for many of them.
Presenter 1 was Para Olympian Sharon Jarvis. Sharon shared her inspirational story and opened up to the audience on her personal battles and triumphs in her quest to represent Australia at the Para Olympics. Sharon is focussed firmly now on Rio 2016 and we wish her all the best.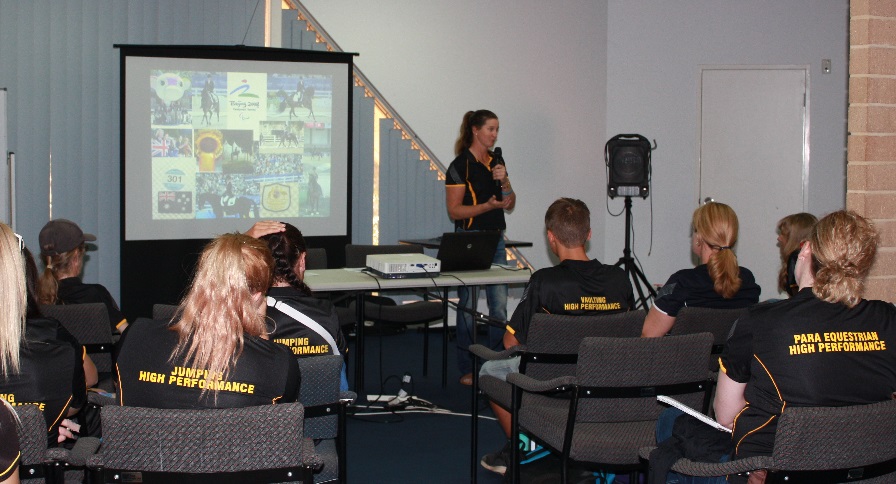 Warwick Vale was scheduled to be Presenter 2 though unexpectedly had to cancel. In his place we were instead fortunate to hear from Veterinary Surgeon, Dr Brian Vale. An Executive member of the Australian Veterinary Association Committee, Brian gave a most informative talk on Swabbing Procedures step by step and what riders should expect if ever involved.
Presenter 3 was Boris Kazakov from SMWA.  As a Nutritionist and Sports Dietician with over 20 years' experience in his field, Boris lectured extensively on Weight, Management, Nutrition and Sports, Optimizing Health & Performance for Sporting Success and Healthy Eating.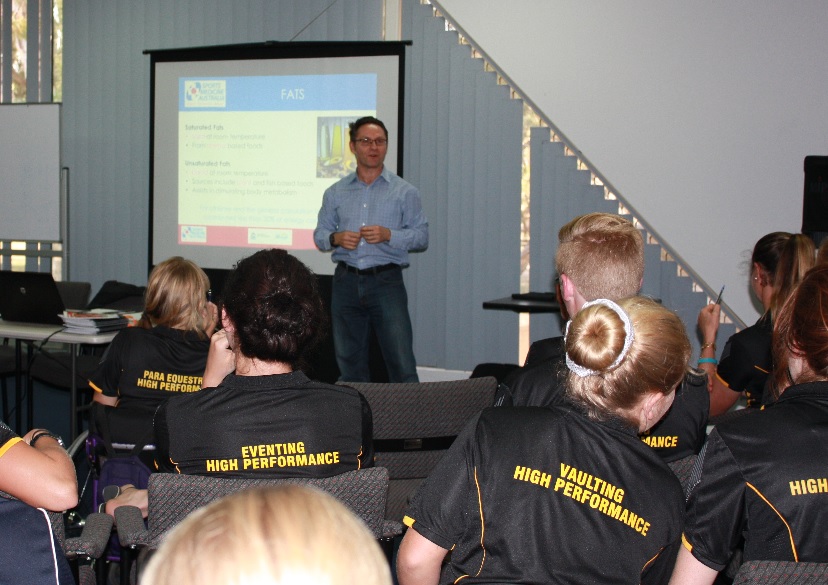 Following the dinner break The Riders Physio - Zoe Farrant had participants moving around in an interactive session covering "Common musculoskeletal issues that can limit a riders performance and overview of management". This topic introduced neutral positioning and biomechanics, as well as discussed the effect of poor biomechanics (often the cause or consequence of musculoskeletal manifestations). Strategies to overcome these issues was also discussed. Athletes commented on the amazing 1:1 sessions conducted with Zoe, who is also a rider and judge herself. Zoe conducted 30 minute appraisals with individuals providing the unique opportunity for valued feedback from a Physiotherapist who relates first hand to the issues riders face and then offered a management plan on how best to correct postural problems.
Stuart Tinney OAM - Olympic Eventer, Level 3 Coach and Coach Educator was the final speaker for the day. Stuart really kept the audience entertained whist chatting about his Journey. Sharing his history and the Highs of his Gold medal winning success at the 2000 Sydney Olympics to the Lows of failing to make the Australian Team selections on numerous occasions. Stuart's message to aspiring young riders is to "Make sure you have heaps of fun! And never give up, keep trying and you never know what will happen!"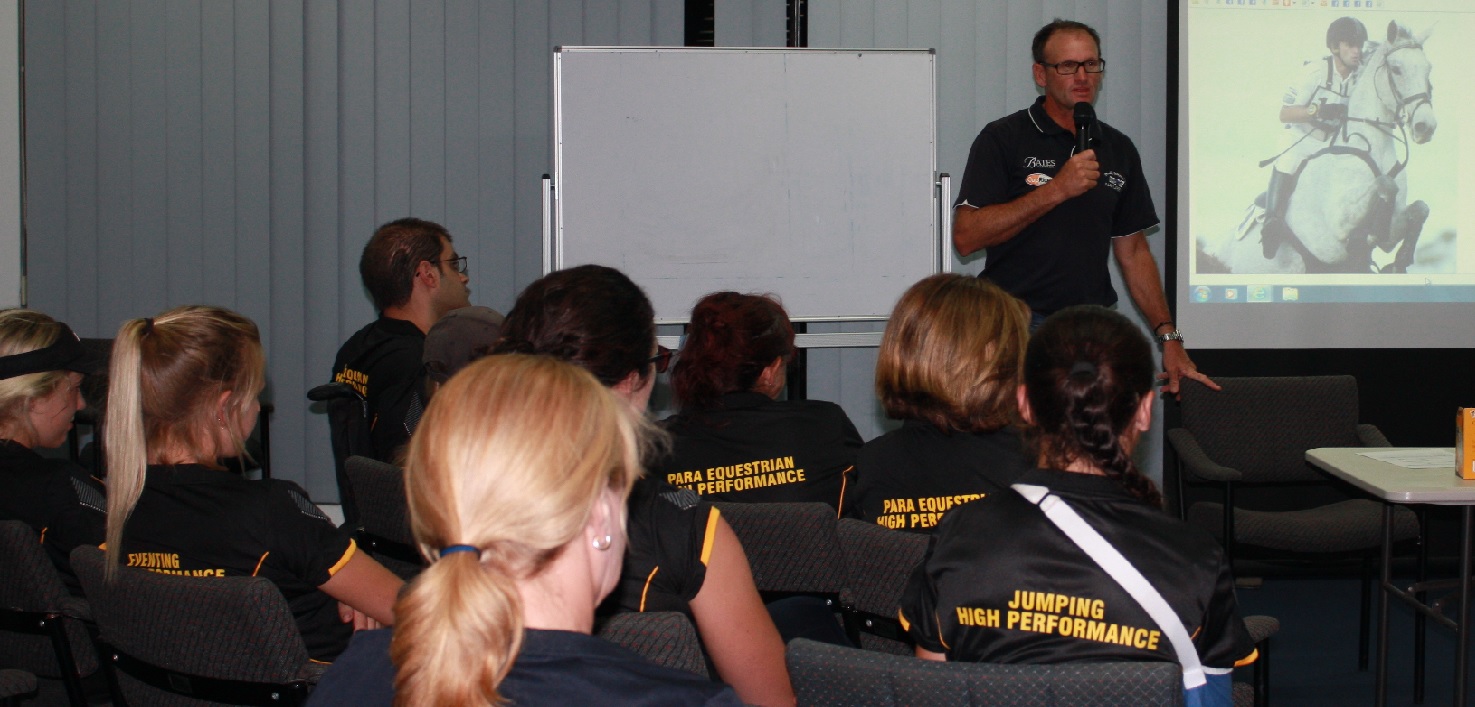 DAY 2
Sunday morning the WA Institute of Sport Developing Champions Workshop, was held downstairs. This was attended by 6 Vaulters, 1 Para-equestrian, 1 Eventer, 2 Dressage, 1 Jumping and 7 National Interschool Squad riders. Developing Champions is a life skills education and training program funded by the Department of Sport and Recreation. The program equips athletes with an understanding of the elite athlete lifestyle, the importance of balancing different life areas and the positive effects that that can have on sports performance. Guest Facilitator was World Championship Swimmer, Rhys Mainstone!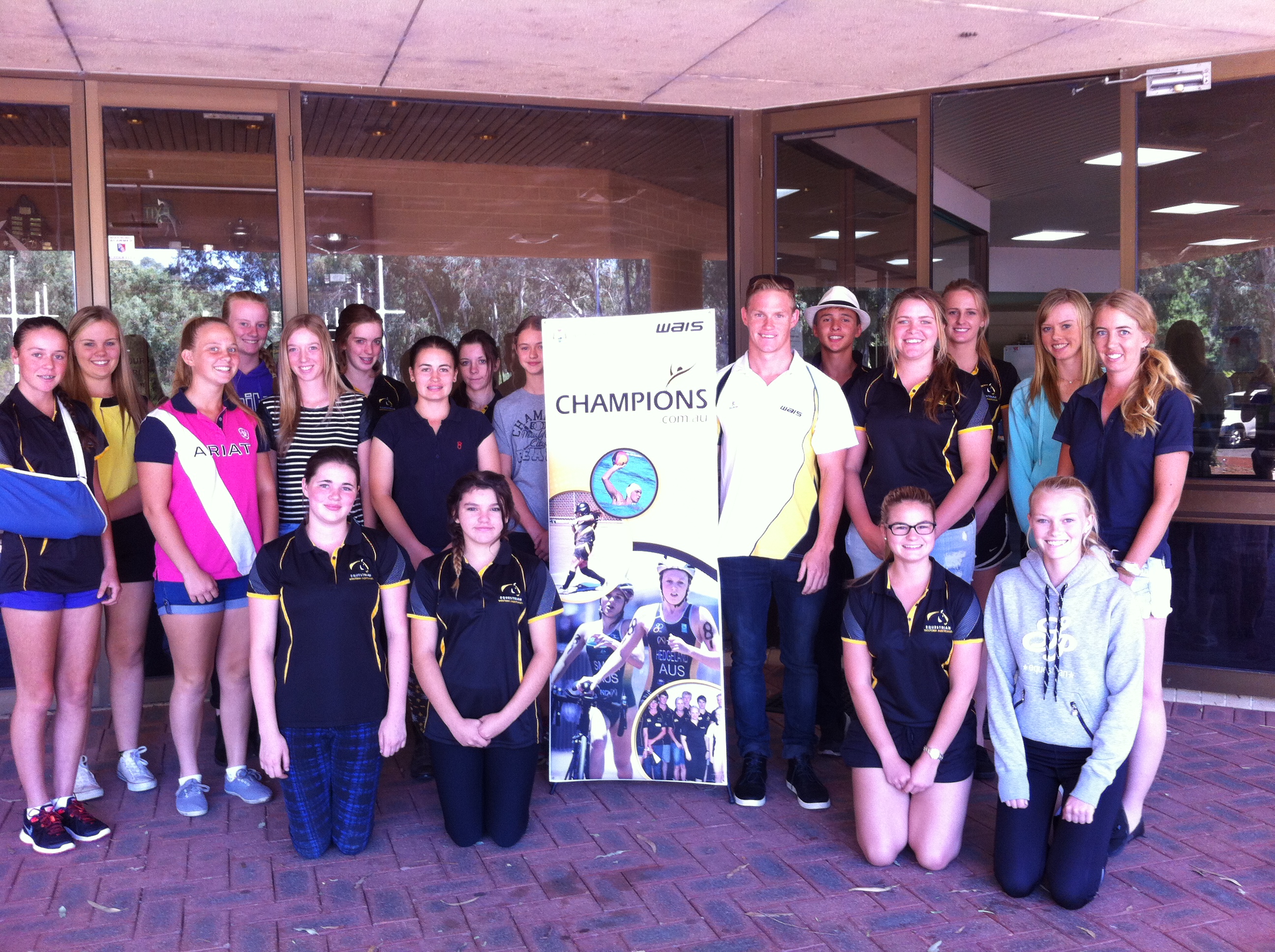 A combined Dressage Workshop was also conducted Sunday by visiting A Level Dressage Judge & Judge Educator - Judy Peel. This was well attended by over 25 riders, coaches and judges. Judy focused specifically on the lateral movements – Shoulder in, Travers, Renvers and Half Pass in the morning theory session.  After lunch Judy, who is also a Level 3 Coach, Coach Educator and FEI rider herself, worked with three young riders on horses of varying levels. They kindly demonstrated the movements and made considerable improvements.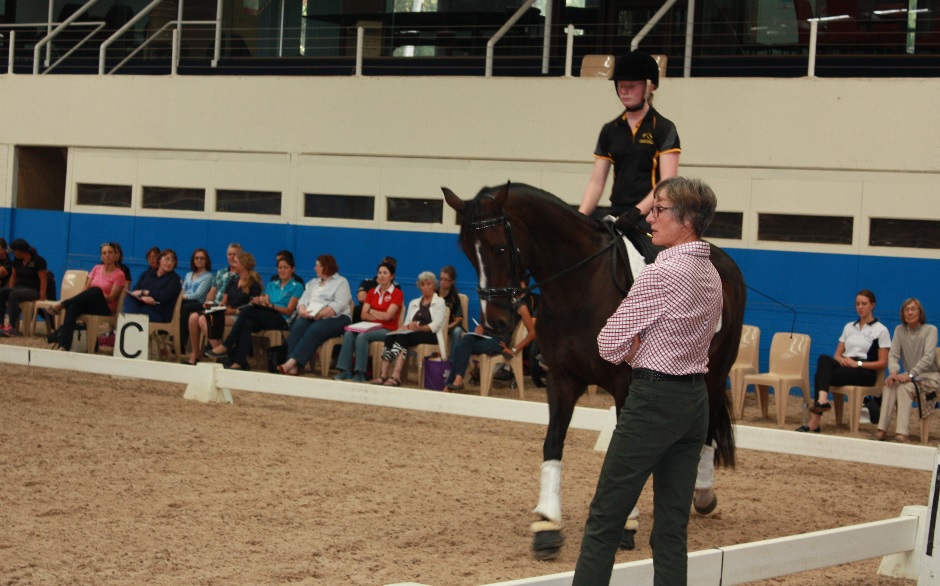 Finally, Outdoors on the C Quest the Vaulters were again lucky enough to have another practical session with Lyn Lynch. Her focus was on performance as she watched individual freestyles and Pas de deux (pairs) routines.  Advising them on what was needed to achieve higher scores and that technique would prevail over difficulty of moves.  She also worked with the horses and Lungers to improve their training techniques too.
Lyn later discussed the importance of goal setting, how to plan and take owner ship of their routines and training.
Vaulters again worked through their Compulsories and Freestyles on the horse for her. Emphasising Quality in every move they do, it was obvious that everyone had understood Lyn's clear and concise coaching and a marked improvement was seen.
Lyn's knowledge for vaulting and her passion to share it came across well.  She could adapt to all levels of the vaulters and made them aware it was their responsibility for their development in the sport. EWA HPP is keen to see Vaulting grow in WA and this was certainly a wonderful weekend for the development of the vaulters.
Dressage Riders
Para Equestrians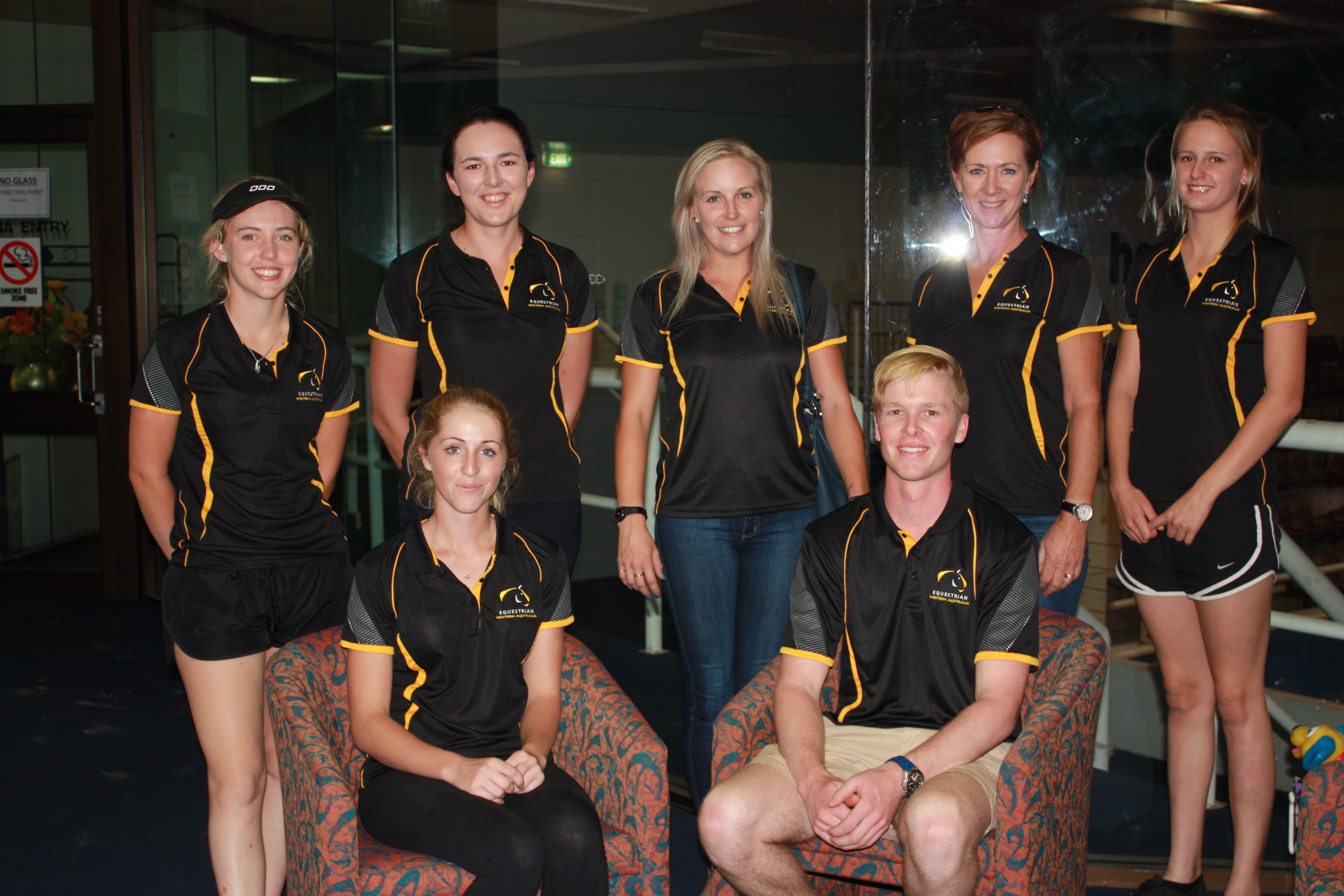 Eventers