Australia remains in lead after conclusion of dressage!
Australia's senior and young rider eventing teams have the advantage over New Zealand at the conclusion of the dressage phase of the Oceania Eventing Championships in Taupo (NZL). Australia's senior team will carry 132.1 penalties into Saturday's cross country which is a tidy 15.3 penalty advantage over New Zealand who has a team score of 147.4 after the dressage. Not letting the wet conditions get in the way, each combination in the Aussie senior team also recorded a personal best dressage score at this level.
The best result came from Shane Rose and CP Qualified who received a score of 35 which also has them leading the CCI3* class.
Victorian rider Katja Weimann riding BP Cosmopolitan attributed her result of 47.1 (and 4th individually) to the team's preparation.  
"It feels good, very exciting to record a PB," said Weimann. "He did a nice test, he's been training really hard all week and it's paid off.
"It was freezing out there. They moved us off the grass and back to the sand and it wasn't pouring with rain thankfully."
Riding in heavy rain, Jessica Manson and Legal Star had the worst of the conditions but it wasn't a distraction and the pair received a score of 52.5 (for 7th individually).
"Mostly happy with his trot work. There was some tension in the canter, but I was pretty happy overall. It was so cold warming up, but once I got in there, I didn't notice," said Manson.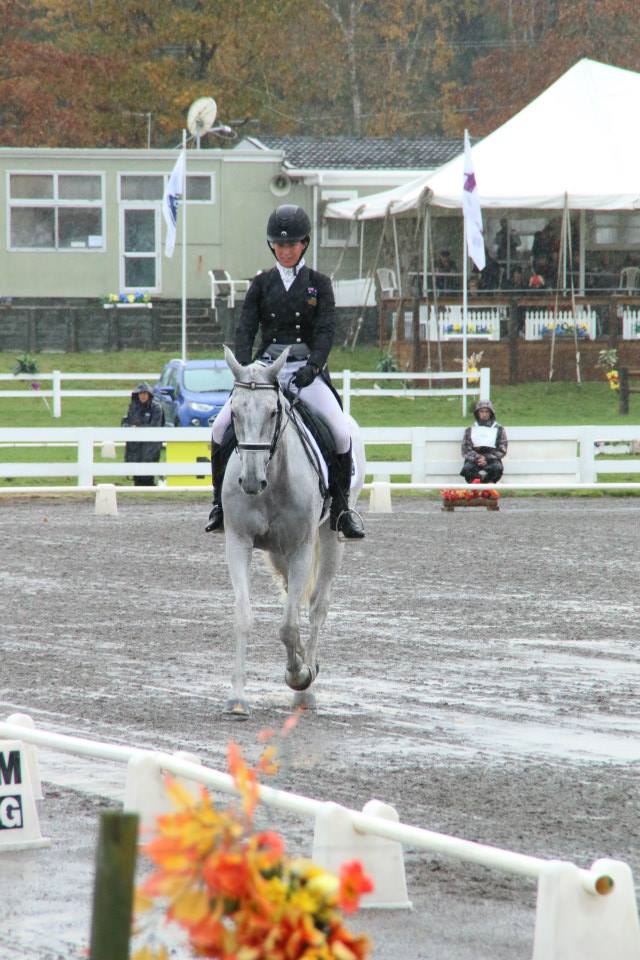 Jessica Manson and Legal Star (EventingNZ)


Queensland rider Isabel English and her horse Feldale Mouse also fared well and will carry 50 penalties into the cross country (for 6th individually).   
The team scores are much closer in the CCI2* Young Rider challenge with Australia sitting on of 152.8 compared to New Zealand's 160.4.
Western Australia's Kenya Wilson and her mare Winifred Fair received a drenching during their test but they maintained their composure and received a score of 51.1.
"I was pretty happy with her considering the conditions. It was very muddy" Wilson said. 
Isabelle Bowditch-McIntryre and her chestnut Grandiose were the last to go for the Australians and the pair performed well on a grass arena deteriorating due to the weather. They will start the cross country with 51.1 penalties.
"The conditions were tough but he went well considering. I'm going to be one of the last ones out on course tomorrow so hopefully the ground will hold up," she said.
Live scoring is available at www.equestrianentries.co.nz
Tune in to www.equestrianlive.co.nz/taupo3de2015 at 3:30pm this afternoon to watch a replay of today's tests.
Tomorrow's ride times are as follows (WA standard time):
8:30am - CCI2* cross country begins
10:30am - CCI3* cross country begins