2015 Vaulting Nationals Wrap-Up
On the 26th and 27th of September, The Australian Vaulting Championship's for 2015 were held at the Queensland State Equestrian Centre, Caboolture. 
WA Equestrian Vaulters Inc (WAEV) had two vaulters participating, and Ripplebrook Equestrian Vaulting Academy had four. WAEV vaulters included Kieran Halliday (EWA High Performance vaulter) in Intermediate and as part of Team Zelos for the Advanced Squad class; and Barra Amba Harrison in Preliminary (AWD). REVA had four EWA High Performance vaulters including Kim Fowler, Claudia Leahy, Skyla Tothill and Isabella Djordjevic. Skyla Tothill was unfortunately unable to compete due to an injury unrelated to vaulting.
The REVA horse, Arrow, set off across the Nullarbor a week prior to the competition and arrived at the venue on Tuesday evening. The WEVA vaulters, Kieran and Barra Amba, were both on borrowed horses and only had three short training sessions of 15 minutes each to get to know their horses. They both showed their adaptability and sportsmanship by removing or adding moves to their freestyles so that the horses would be comfortable and happy with them on board. Kieran's horse was Brigadoon (Brigsy) from Kingfisher Vaulters (QLD) and Barra Amba's horse, Springfield Commander (Tigger) was kindly leased by the Southern Highlands Vaulting Group (NSW).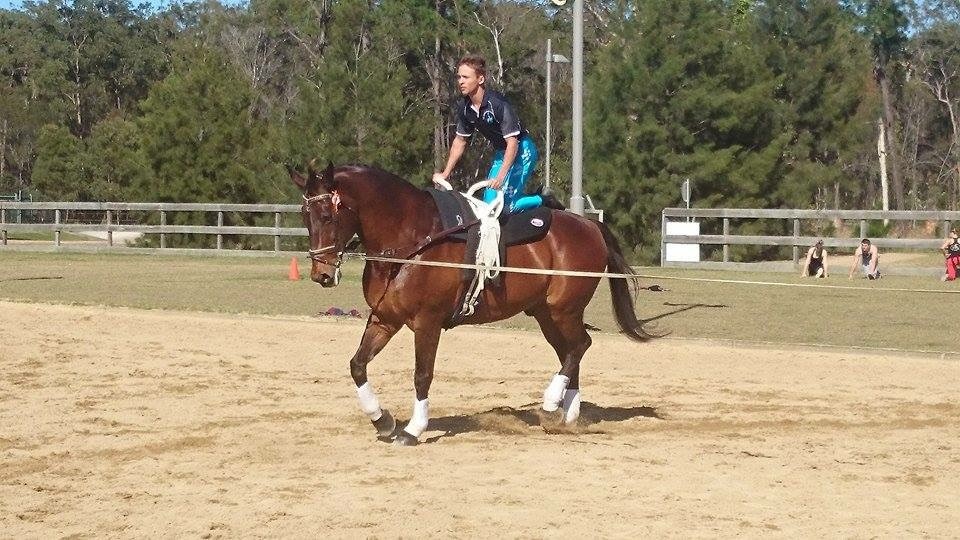 Kieran Halliday warming up on Brigadoon
The competition started on the Thursday with the CVI (international grade) classes. The FEI judges included John Eccles from Scotland, Matthias Lang from France and Angie Deeks from Queensland. On the Friday evening the Opening Ceremony for the Nationals commenced with an air of excitement.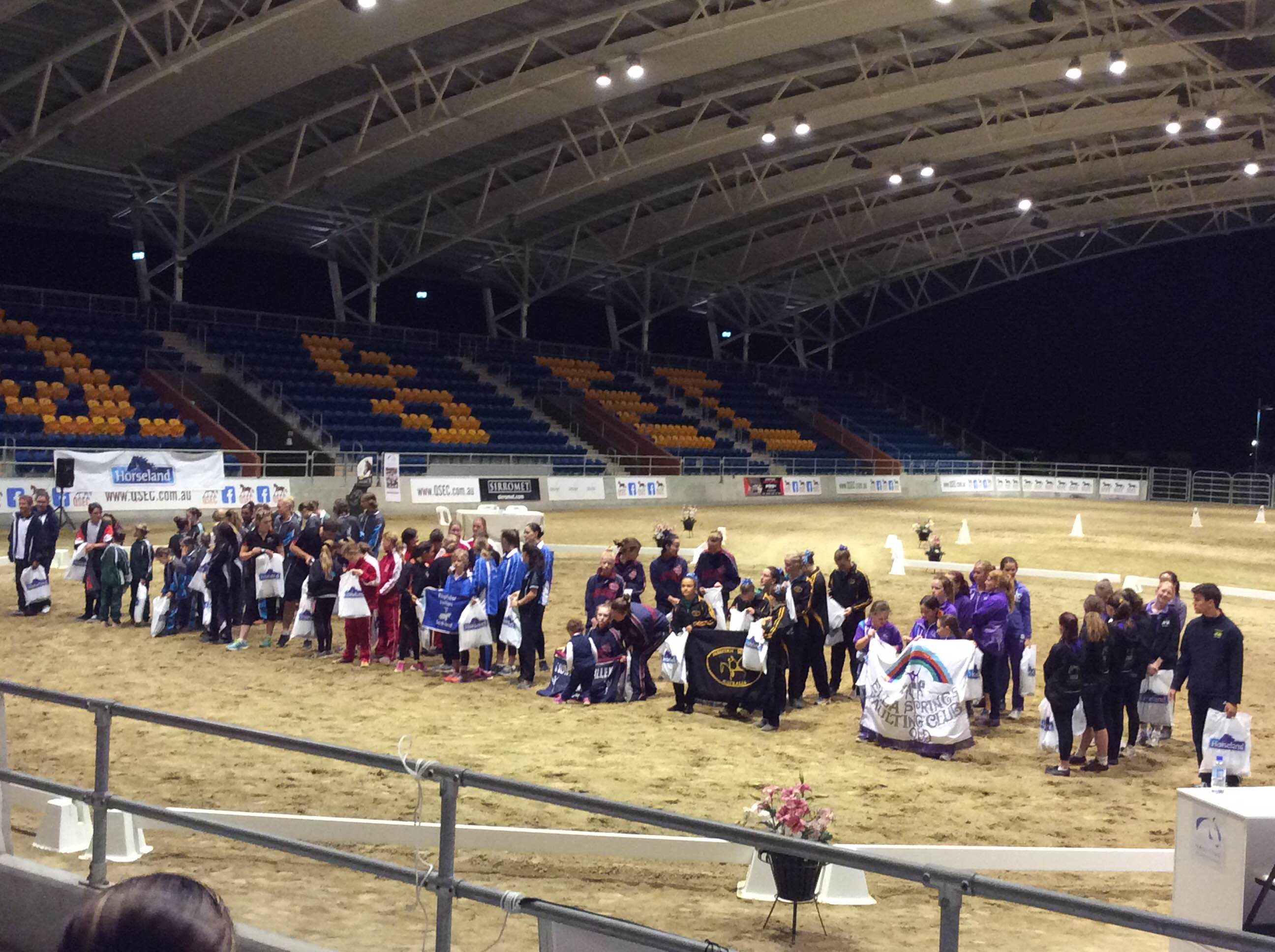 Nationals Opening Cermony 2015
Saturday was the first day of competition where the WA vaulters competed. Bella and Claudia completed their Pas des Deux on Arrow at walk. They completed a very smooth performance and the team were all delighted when they were placed 2nd.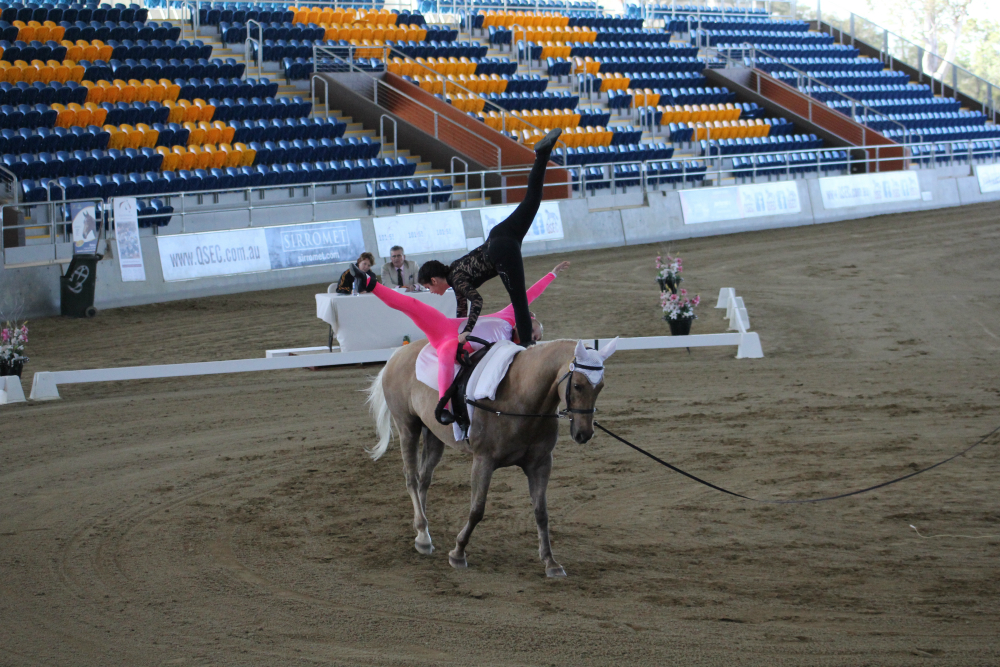 Bella and Claudia competing in the Pas des Deux on Arrow
Claudia had her Individual at Intermediate level, canter compulsories and canter freestyle performed to INXS's "Never Tear Us Apart". Her routine was adapted the day before to make it easier on the horse. She did a beautiful performance and although she did not place in the very large, competitive class, she was very happy with how she performed and the team were all very proud of her stunning performance.
Bella also performed her Individual Pre-Novice, Canter Compulsories and Walk Freestyle. It was Bella's first competition at this level after progressing this year from the Prelim level. She performed to a "Spaceman" theme and she won 6th place.
Kieran received a 1st place in his Intermediate Class, which is made up of Compulsories and Freestyle, both in canter. Barra Amba received a Second Place in the Preliminary AWD class for her Compulsories and Freestyle on the 16.3hh Tigger. Just for fun, Kieran and Barra Amba did the Pas De Deux AWD class on the barrel, where they placed 2nd.
Kieran also took part in the Advanced Squad class with his team mates from Team Zelos, whom he had competed with for Australia, 6 weeks earlier in the Netherlands, at the first World Junior Equestrian Championships. Team Zelos did not disappoint on Australian ground and their faithful mount "Brigadoon" and lunger, Mike Winwood took them to a well-deserved 1st place. Team Zelos, made up of juniors only, also won the National Champion Squad for 2015 trophy. A fitting end to a very challenging, but successful year.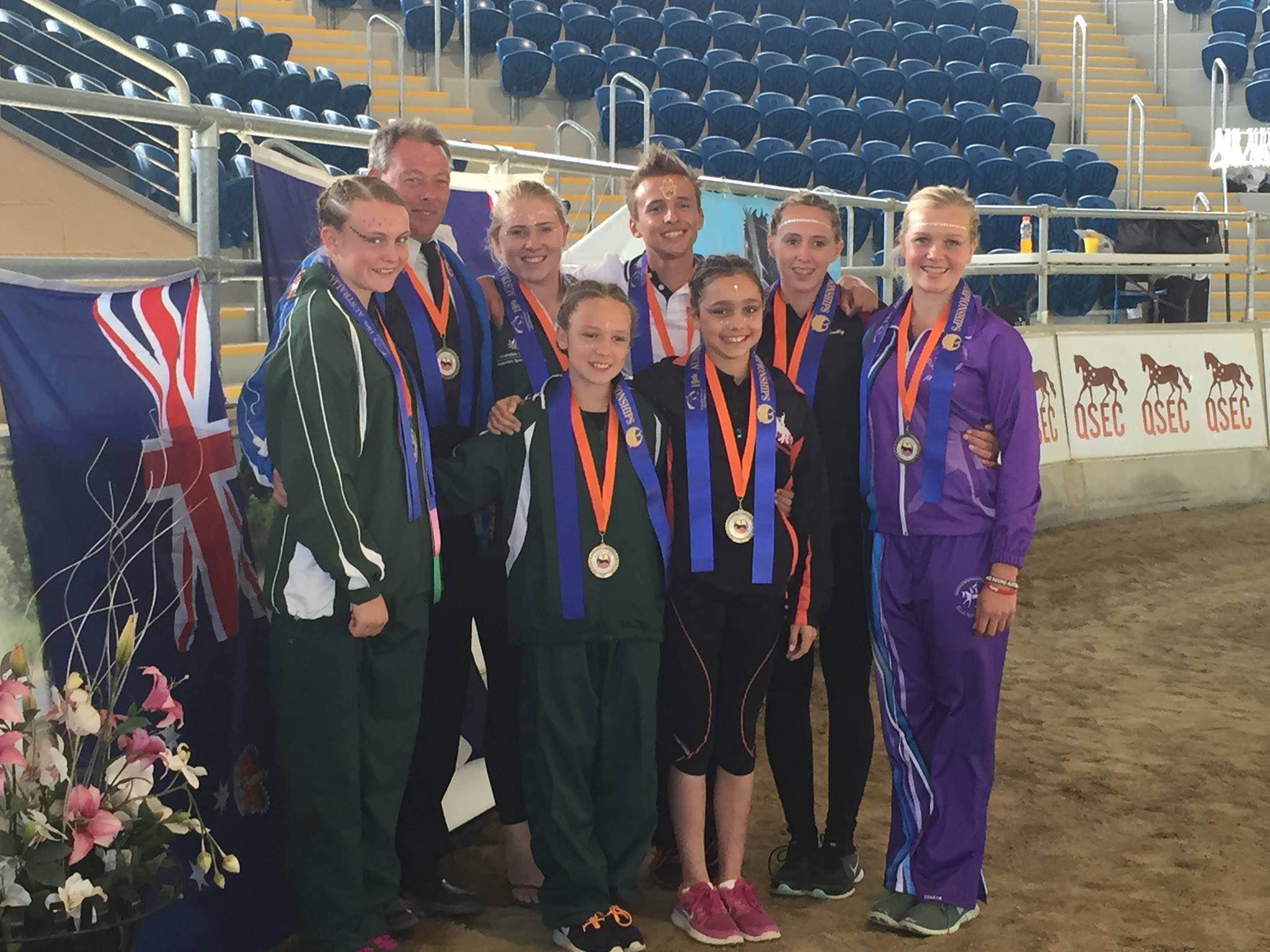 Team Zelos Advanced Squad 2015
Saturday evening saw the PDD barrel competition, followed by a novelty barrel class which was very entertaining whilst the vaulting teams feasted on pizza put on by the QLD organising committee.
On Sunday morning, Kim, Bella and Claudia teamed up with two vaulters from Victoria and one from NSW to perform a routine. They received 6th place which was a great achievement considering they had only practised together on the barrel in the short time.
The evening finished off with a presentation dinner. The National event saw Jamie Hocking from South Australia take out the Champion Male and Sarah Grayson from New South Wales the Champion Female.
On Monday the 28th of September, Kieran and Michelle Halliday attended a Coach's workshop with John Eccles, a judge, coach, lunger and Joanne Eccle's father, from the UK. John's workshop centred around the judge's score sheet. By popular demand John spent time on explaining how to present the horse for trot up and how as trainers, lungers and vaulters, we can improve the horse score.
As always, the 'vaulting family' was welcoming and supportive. Time was spent catching up with old friends and making new ones, with hard work and lots of laughs along the way. The venue had very good facilities, although the horses thought that the arena was far too spooky! The Vaulting QLD committee did a wonderful job of organising these championships, the only down side was the cold weather, who'd have thought it would be that cold in Queensland!
Vaulting in WA is becoming ever more popular, and the vaulters have benefited from the chance to train and compete in WA with top coaches and judges. Mention must also be given to the parents and club members who worked hard all year to make the trip possible. The vaulters were all very grateful for that opportunity and support and thoroughly enjoyed the experience.
Kieran Halliday in particular would like to thank EWA and EWA High Performance Program for the assistance that he received to attend the Australian National Vaulting Championships for 2015.