2015 Saddleworld Australian Dressage Championships
Despite appalling rain and wet arenas on Day 1, the SIEC arena surfaces were reportedly extremely good and gave all horses a great footing to work off. Day 2 was cloudy and humid but better weather, and finally by Day 3 weather heated up with plenty of sunshine and plenty more quality tests.
Results of WA Riders:
On Day 1 Deon Stokes and Don Dancier were midfield with 64.632 % in the very strong FEI Prix St George class, and Karen Spice and Tudor Expectations scored 61.474 %.
Deon Stokes and Don Dancier placed 1st in the Advanced 5.3 with 71.272 % & 2nd in the Advanced 5.2 with 73.714 %. They were crowned 2015 Reserve Advanced Champions by the narrowest of margins.
Deon commented that he was really happy with his tests, stating that "He [Don Dancier] was a little green in the PSG but it was only his 4th start at this level, so [I'm] very happy with him."
 Deon also entered Royal Oak II winning the FEI Grand Prix CDN scoring 63.580 %, FEI Grand Prix Special CDN for a score of 64.804 %.
Deon reported "Royal Oak II was a superstar! We are both very new to Grand Prix and I am chuffed that I have brought my first dressage horse through from a 3yr old to Grand Prix. Not many can say they have done that! We are certainly green and need more practice but we were very happy with how he went for such a young horse at the top level".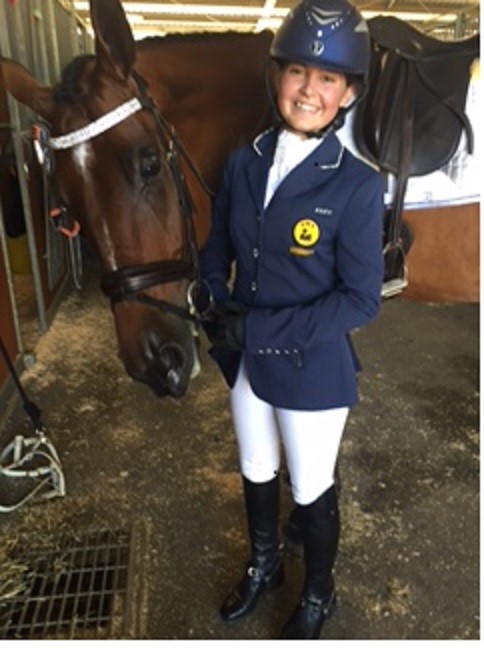 India Levene and Jaybee Alaria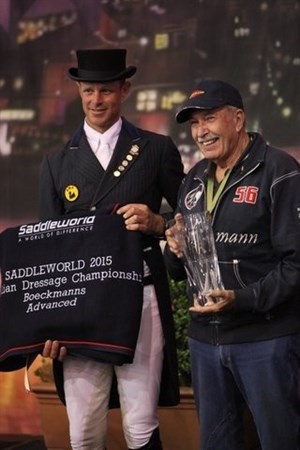 Deon Stokes - Runner up Advanced Champion
Photo credit Equestrian Life
Wendy Cumming and Joshua Brook Jamison were consistent performers in Advanced Classes. Advanced 5.3 scoring 60.790 % & Advanced 5.2 with 61.762 %
Karen Spice and Tudor Expectations scored 61.053% in the FEI Intermediate I. Karen also formed an FEI Composite Team with New Zealand competitor Jody Hartstone on ALI BABA (Inter II) and Queensland rider Kaitlin Dooney on Remi First Fleet (PSG). The Team placing 3rd overall! In the Medium Championship Tollen Park Diva ridden by Jamie Bawden scored 59.744% in Medium 4.2 and 60.991% in the Medium 4.3.
Young India Levene and Jaybee Alaria and scored 69.095 % in Novice 2.2 and 63.333 % in the Novice 2.3 whilst Deltry Valentino with Deborah Ambrosini scored just over 65% in same classes. Deborah Ambrosini also won  highest placed amateur owner rider in the Novice Class. 
India also rode in the Elementary Championship, placing midfield scoring 66.343 % in the Elementary 3.2 and then in the Elementary 3.3. scoring 59.208%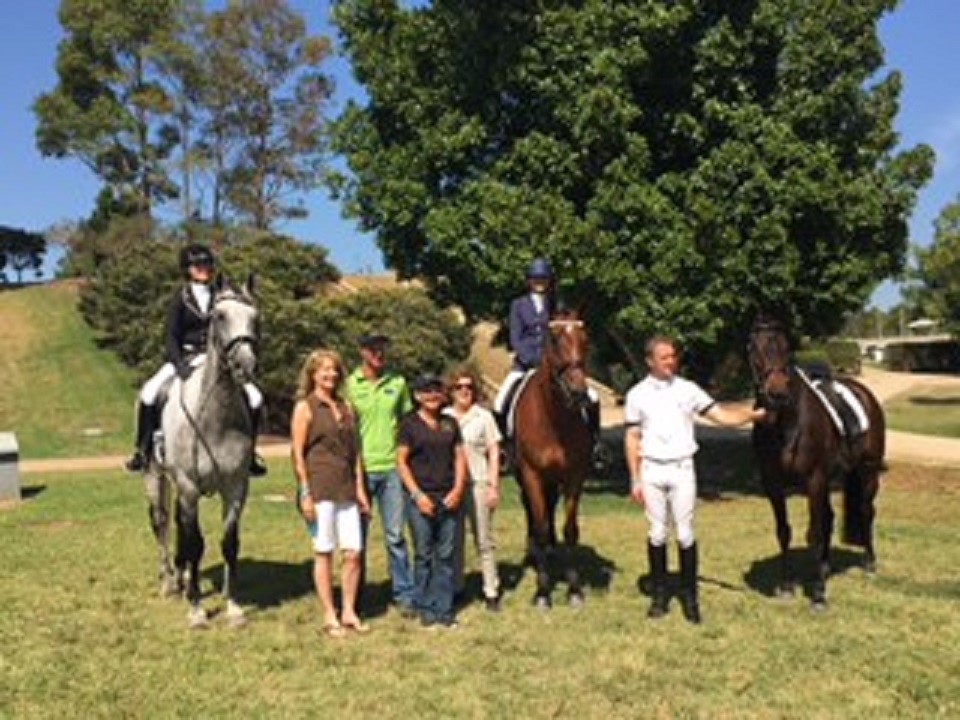 Our WA contingent.  Left to Right: Deborah Ambrosini and her lovely grey Deltry Valentino, Wendy Cumming, Deon Stokes, Karen Spice, Gill Botten (Team WA Chef d'Equipe), India Levene on Jaybee Alaria and Jamie Bawden holding his elegant mare Tollen Park Diva.