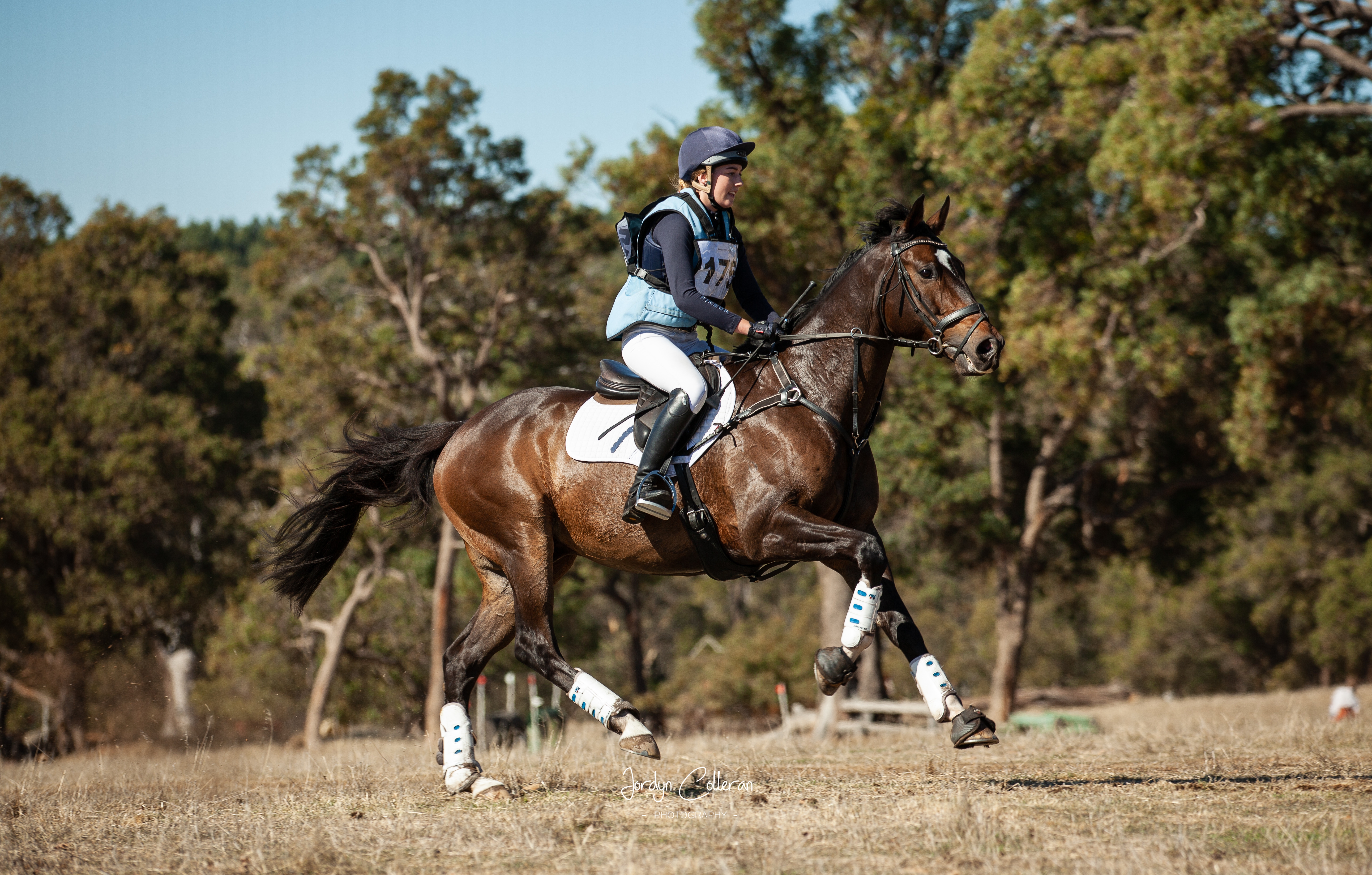 Photo credit: Jordyn Colleran Photography
Perth Horse Trials Association announce timetable change for Wooroloo International Three Day Event
Organisers of the Wooroloo International Three Day Event (16-18 August 2019) have announced an adjustment to the event timetable, to improve efficiency and enhance the spectator experience. The change will bring some dressage tests forward to the Friday of the event (16 August), and eliminate the need to run any show jumping on the Monday. "We've worked really hard to reshuffle the timetable and we are confident that it will provide increased spectator interest across the weekend and also reduce the workload on volunteers who will no longer be required to run show jumping for a small number of competitors on the Monday," explained event director, Kerrie Robbins.
Riders in the CCN-L 1* and CCI-L 2*, 3* and 4* will trot up on Friday morning before completing their dressage tests on Friday afternoon. Competitors in the short format CCI-S 3* and 4* will also do dressage on Friday, while the EvA65, 80 and 95 dressage will remain on Saturday morning. Cross country and show jumping action will be spread across the two days of the weekend, providing a great spectacle of top equestrian sport on both Saturday and Sunday.
"Wooroloo International Three Day Event is the most prestigious eventing competition in WA, and the only place to see the top class CCI-L 4* competitors in the state, so we encourage all equestrian fans to come up to the Perth Hills to enjoy the action," added Kerrie. Admission is free for spectators and there will be trade stands and refreshments for sale. Entries for competitors will open on Ktrials in due course.
Perth Horse Trials Association runs two events annually at Wooroloo Prison Farm near Chidlow - the first CCN event is in May, followed by the International Three Day Event in mid-August each year. For further information follow Perth Horse Trials Association on Facebook or visit www.perthhorsetrials.org.au
Provisional Timetable (subject to entry numbers) 
 

 

 

 

 

 

 

 

 

 

Fri

 

16/08/19

 

 

 

Trot
Up

 

CCN-L
1*

 

CCI-L
4*,3*,2*

 

 

 

 

 

 

 

 

 

 

 

Fri

 

16/08/19

 

 

 

Dressage

 

CCN-L
1*

 

CCI-L
4*,3*,2*

 

CCI-S
4*,3*

 

 

 

 

 

 

 

 

 

 

 

Sat

 

17/08/19

 

 

 

Dressage

 

EvA
65, 80, 95

 

 

 

 

 

 

 

 

 

 

 

Sat

 

17/08/19

 

 

 

Showjumping

 

EvA
65, 80

 

 

 

 

 

 

 

 

 

 

 

Sat

 

17/08/19

 

 

 

Cross-Country

 

CCN-L
1*

 

CCI-L
4*,3*,2*

 

CCI-S
4*,3*

 

 

 

 

 

 

 

 

 

 

 

Sun

 

18/08/19

 

 

 

2nd
Trot Up

 

CCN-L
1*

 

CCI-L
4*,3*,2*

 

CCI-S
4*,3*

 

 

 

 

 

 

 

 

 

 

 

Sun

 

18/08/19

 

 

 

Showjumping

 

EvA
95

 

CCN-L
1*

 

CCI-S
4*,3*

 

CCI-L
4*,3*,2*

 

 

 

 

 

 

 

 

 

 

 

Sun

 

18/08/19

 

 

 

Cross-Country

 

EvA
65, 80, 95