Spreading the vaulting spirit: The 2500km journey
Some people are so passionate about their sport that they are willing to travel thousands of kilometers to share it with others.
That is what Kay Fowler and her team did over 12 days in July this year. Read Kay's travel report below for more information on their spectacular journey.


----------------------------------


The aim of the trip was to introduce vaulting to the community and equestrian groups in regional WA in the hope that they would be interested to continue with the sport and help it grow. It was important for us to show them how this sport brings people of all ages and abilities together, and how it helps develop fitness, teamwork, self-confidence and friendships in such a fun way.
We took two horses, all of our equipment, Jane Beaverstock (who is our Lunger, travel planner, treasurer, horse carer and float packer extraordinaire), Cambridge Keane (a vaulter in our club and a budding coach), and me - the coach.
We travelled over 2500kms over 12 days, visiting Carnarvon, Exmouth and Geraldton, and had 56 participants attend overall.


Day 1 - Wednesday 8th July
It was very obvious that, even with Jane's expert float packing skills, we weren't going to fit all our equipment in our float, so we were lucky enough to borrow an extended one for the trip off a friend.
By lunchtime we were laden with two horses, hay, stock feed, a vaulting barrel, vaulting equipment, paper work, food, swags, mattresses, sleeping bags, two small holdalls of personal luggage and one very big case of personal luggage (which I now regret taking).
We set off for our first stop - Geraldton. We had planned to do approximately 500 km's travelling at a time with one break stop in between. Jane had planned our mid-way stop to be at Cervantes, however when the time came checking her GPs she realised that we were on the Brand Hwy and Cervantes was on the Indian Ocean Road. This was so unlike Jane to get something wrong and we all cracked up to have something like this occur so soon into our trip. Jane redeemed herself in a couple of seconds flat and we stopped for a break at Badgingarra.
We arrived at Geraldton Combined Equestrian Club in the dark. We had arranged with Wendy Sutton to camp overnight and as there was a big show jumping weekend coming up horse trucks were already there with people camping and bonfires roaring. We unloaded the horses gave them a walk and prepared their feeds. All settled in their yards we went about to settle ourselves in. Unfortunately the club rooms had not been unlocked so we had nowhere to sleep! The only place I could find was an old unlocked caravan obviously used for the judge's box, so we set up camp in that. Jane in her wisdom decided she didn't need her swag and a blanket would do.


Day 2 - Thursday 9th July
IT WAS THE COLDEST NIGHT OF THE YEAR.  We didn't sleep, we froze. In the morning Jane got up to find her swag outside covered in ice. A hot shower got the two girls up and running, but I couldn't bear to leave my swag until the last minute. Horses all OK, fed, loaded and we were gone in a flash. Our first pitt stop was Billabong Road House which is a wonderful place. The owner was very friendly and helpful with the horses. Love the Martians!
By the afternoon we had reached Carnarvon and settled the horses in at the Pony Club grounds. We were met by Ainsley Evans, the coach, and she showed us round the wonderful facilities. She offered for us to stay at her house and as much as the club house was very inviting, we accepted. We laid our swags out in the "kids retreat" at the Evans amazing equestrian property and met her very tall family. We made plans for the next day's clinic -18 children for 2 hours on a holiday programme.


Day 3 - Friday 10th July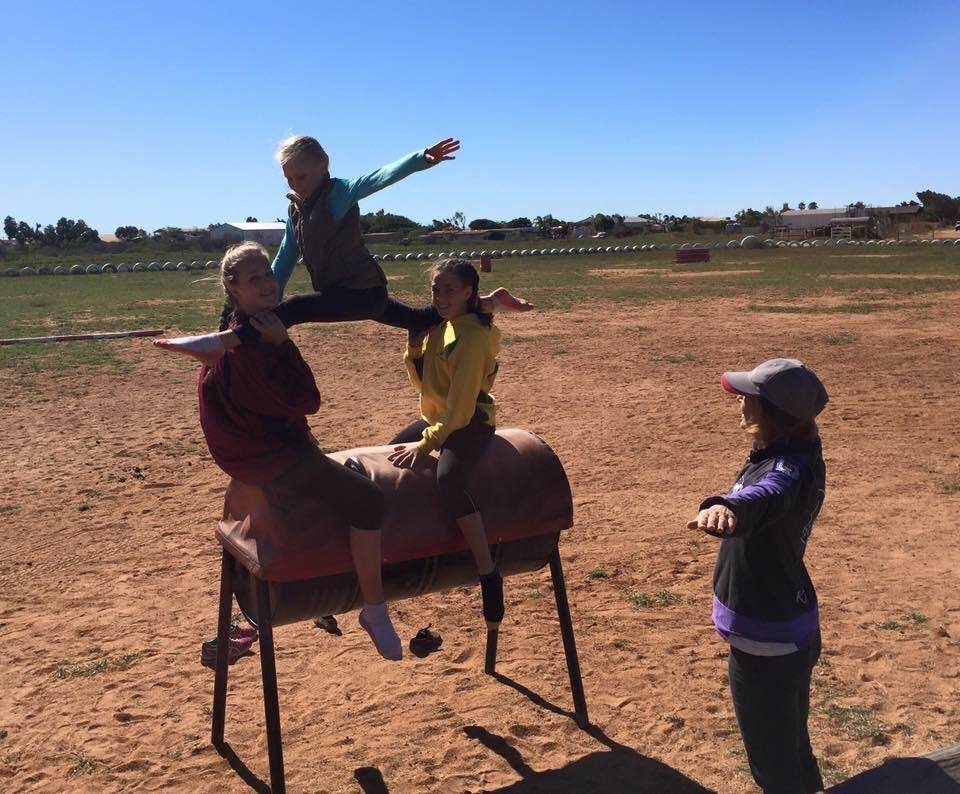 We split the children (some never having contact with a horse) into three groups and rotated them for 40 minute sessions between us. Ainsley brought her horse and did horse mastership, grooming and handling, safety around the horse. Cambridge did fitness and team games on the barrel, Jane lunged Arrow and we did some basic vaulting moves with the children on him.  The group organiser, Mathew, was so excited at what we did. He was very grateful to Ainsley for always including his group and was happy to put in a good word for us. We will hold you to that Mathew. He did admit to being a bit concerned when Ainsley had announced the kids would be vaulting, asking "Where are they going to put the pole?"
The afternoon saw a bit of rest and relaxation for us by etting rip on the playground and going to the beach. The beach was very windy but we loved it. We also visited Morrells to eat chocolate covered bananas and strawberries. We returned to the horses to give them a light exercise and put them to bed. The wind was hitting the club grounds and we were grateful that we were not in the tin clubhouse for our stay.

Day 4 - Saturday 11th July
The irst day of full clinics - 10 pony clubbers and local children over 2 days.
We introduced vaulting as a sport and went over some safety aspects. Starting off with fitness, stretches, and a team obstacle course that Cambridge had set up, everyone got stuck in and any shyness dispersed. It was obvious they were very competitive. Jane warmed up Arrow and Mak. We practised safely walking in to the horse and out again. Cambridge demo'd some compulsories on the barrel. She ran through them with the children and then they repeated them on the horses.
Lunch time. We put on DVD's for them to watch some world class vaulting.
Afternoon. Inspired by the lunchtime DVD's, the vaulters looked through some books and pictures, and with Cambridge and Jane's help, started to put some freestyle moves together and practised them on the barrel. Ainsley and I had a go at lunging her faithful horse "Bratz" to see if he would make a good vaulting horse to continue with. It was very apparent he would.
That evening we packed up, headed to Ainsley's, where the Pony Club put on a sausage sizzle. We took the barrel and a few old vaulting unitards we had with us, and before long the vaulters were practising their routines in costumes. Jane played some music to suit their style and the dress rehearsal was complete.


Day 5 -Sunday 12th July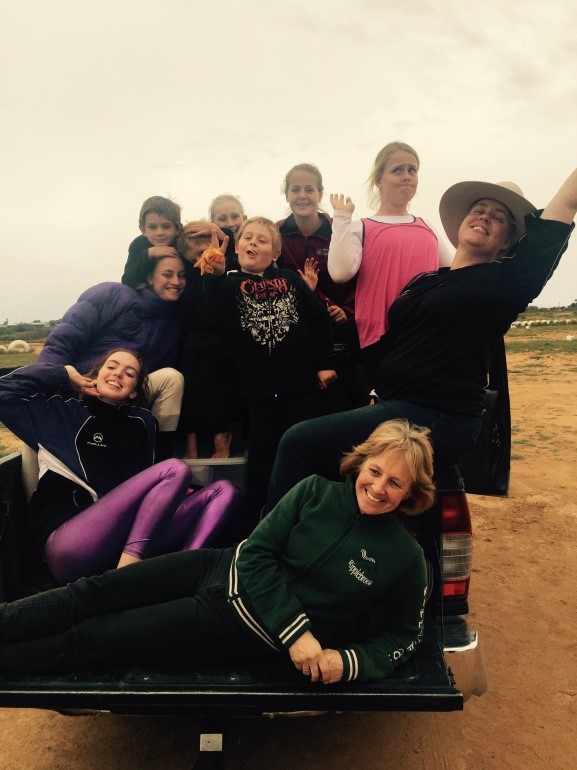 After a different style of warm up was completed, the vaulters were split in two groups - one to practise their freestyle on the barrel, and the other to repeat the few compulsory moves they had learnt the day before on their new vaulting horse "Bratz". Then they switched. Just before lunch Cambridge showed the vaulters how to run in, and ran a game to practise it. Captained by Cambridge with one group and Ainsley with the other, it was obvious that the competition had begun. We set up an arena, judges table, music, got a couple of parents to judge, the vaulters got changed, horses warmed up and the performance began. Team Mak versus team Arrow.
It didn't really matter who won, just that what was achieved in 2 days was incredible to watch and the smiles on the faces said it all. However Cambridge would never forgive me if I didn't mention that she beat Ainsley.
We closed with a chat and handed over an information file in the hope to keep the group going. The file included information on barrel measurements, rules, moves, where to get equipment, websites, etc. The vaulters helped pack the float and see to the horses. When someone shouted "Everything that is going to Exmouth needs to be on the back of the ute!", 10 children jump on.


Day 6 - Monday 13th July
Travel day. From here to Exmouth I realised why our AFL team is called the West Coast Eagles - I never realised so many existed in WA.
The day proved eventful. After a stop at Minilya, Jane fell asleep. Not realising we were meant to turn off, we missed the sign for Exmouth and Coral Bay and I headed on up the highway to Karratha. Thank goodness it did not take Jane long to wake up. She scanned her phone for messages then glimpsed at her sat-nav. "Guys we are on the wrong road!" she blurted. Fits of laughter ensued and we turned around and drove back to find the massive sign I had missed earlier.
Heading up the correct road, the wind got up and after a while the fastenings on the tonneau broke and the tonneau flapped madly banging on the cab of the Ute. We pulled over to refasten it only to realise that the mattresses had blown away nowhere to be seen. At this point I thought that things happen in 3's and if we get through with no other dramas that day we could count our blessings.
Alas not so. After being met By Robyn Cook from Exmouth Horseman's Club at what was truly an amazing horse facility on the edge of nowhere, I went to unhitch the float.  The handle of the jockey wheel had broken off obviously from hitting the road and we had no way of unhitching. We did laugh and  we did count our blessings that  we all had arrived safely. With the help of a local garage and a replacement for the handle all was fixed and we made camp in the club house ON THE SOFAS.


Day 7 - Tuesday 14th July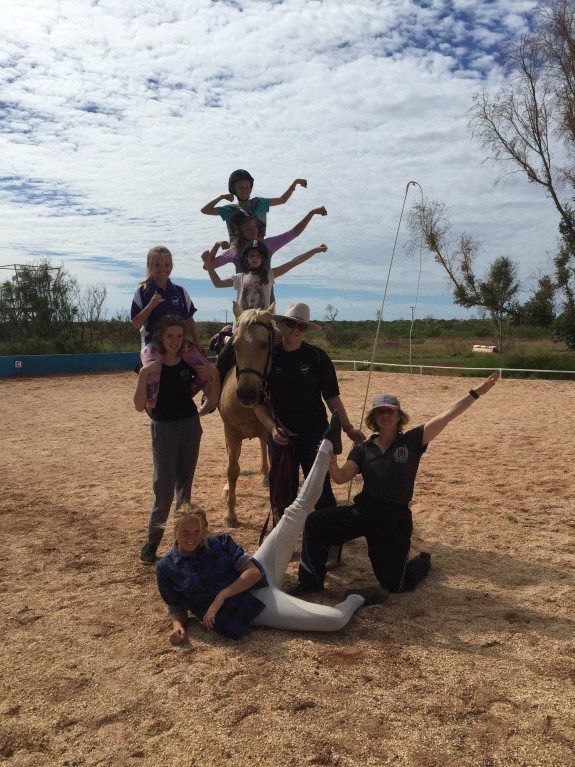 Robyn arrived, not sure of who would attend after a big weekend at Bush Races at Winning. Sounds like a home for Cambridge.
However, first cab off the rank came Heike - a German lady who had vaulted 20 odd years ago in her home country and was keen to have a go again. She laughed at the size of Arrow and the slim build of Mak. Not at all what she was accustomed too, but nevertheless started warming up around the arena and went through some moves on the barrel. We exchanged information on what the rules used to be and what they were now and we all had a go at both. Arrow was brought out and warmed up and Heike was off and running. Three other young girls came throughout the day and a similar routine was completed with them. By the end of the day they all had a go at canter on Arrow. Parents stopped to watch and listen about a sport they didn't know of. 


Day 8 - Wednesday 15th July
Wind kept us from a good night's sleep so we were up at the crack of dawn with the resident Osprey as she fed her chick.
Robyn's three daughters came with their pony Lady to have ago at some vaulting. Jane and I worked the pony whilst Cambridge went through some freestyle moves with the vaulters. Lady was lovely. She was a typical Pony Club pony who did everything and was happy to have us all around her and move around on her back. Heike arrived and laughed even more when she saw the size of Lady. We all had a go on Lady and she gave the vaulters confidence and was well behaved.
It just so happened that whilst we were in Exmouth, Skyla, one of our younger vaulters, was holidaying there with her family. She came up and before you knew it Heike and her were performing Pas de deux (pairs) moves on the barrel. They had a go on Arrow and it was quite a performance from two people that had only just met but had the sport in common. Heike showed us her German books of vaulting moves with the techniques to perform them and was happy to share them with us. The other girls did their freestyles on Arrow. They were very gymnastic, performing walk overs on the ground and the barrel. It was amazing how much they could do and how balanced they were.
A parent joined in with a go on Arrow, feeling the movement of the horse at canter. At the end the information file was handed over and the girls said that it was fun.
With a bit of time left in the afternoon, we headed off to the beach with the horses and did some beach combing. Afterwards we went fishing with Skyla and her mum. We were successful in obtaining two sizeable fish. One caught by Jane and one given to us from someone else who obviously was sympathetic to us for our efforts. A third fish was having a really bad day when, after taking a hook from Jane and being set free, it again ended up on the rocks on the end of Cambridge's line.


Day 9 - Thursday 16th July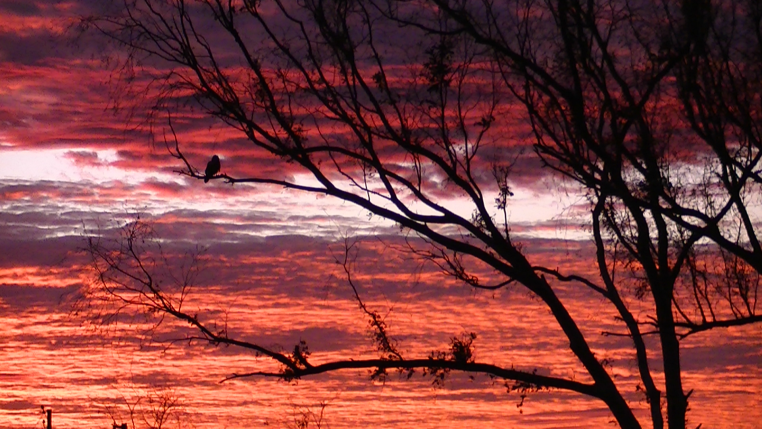 Up to pack and leave with a glorious sunrise and a farewell from the osprey. Robyn arrived to say goodbye and to tell us that her girls had been googling vaulting all evening.
I could not get over how a place known more for its game fishing, Ningaloo Reef and whale sharks, should have a wonderful equestrian facility, a stock feeder that was happy to deliver fortnightly to sustain the equine fraternity, and a German Vaulter who still loves and has not forgotten her sport. That's the power of a horse at its best I guess. We returned to the Evans' house on route back to Geraldton for a stopover that night, and would you know it we had an impromptu vaulting session with all of the crew as they turned up for a last farewell.


Day 10 - Friday 17th July
More Chocolate covered strawberries for the trip and we were on our way to Geraldton. We met Wendy Sutton from Geraldton Combined Equestrian Club. She opened up the club house and showed us around the facilities and announced that we could expect 19 participants the next day from her club, local pony clubs and the RDA. Knowing this was a big number to get through in such a short time, we worked out a plan to accommodate everyone and to showcase what we could about vaulting.


Day 11 - Saturday 18th July
21 participants showed up. This was awesome!
 We covered the safety aspects and did a warmup together. Cambridge demonstrated walking out to the horse and compulsory's at walk and canter on the horse. Knowing that we would need the older participants to help out, we split the vaulters into two age groups. The younger went to Cambridge and practised their compulsories on the barrel. I took the older group they soon were walking down the line, legging each other up, looking out for corrections in each other's compulsories, a lap or twoat canter, then dismounting at walk in a safe manner. The groups then switched.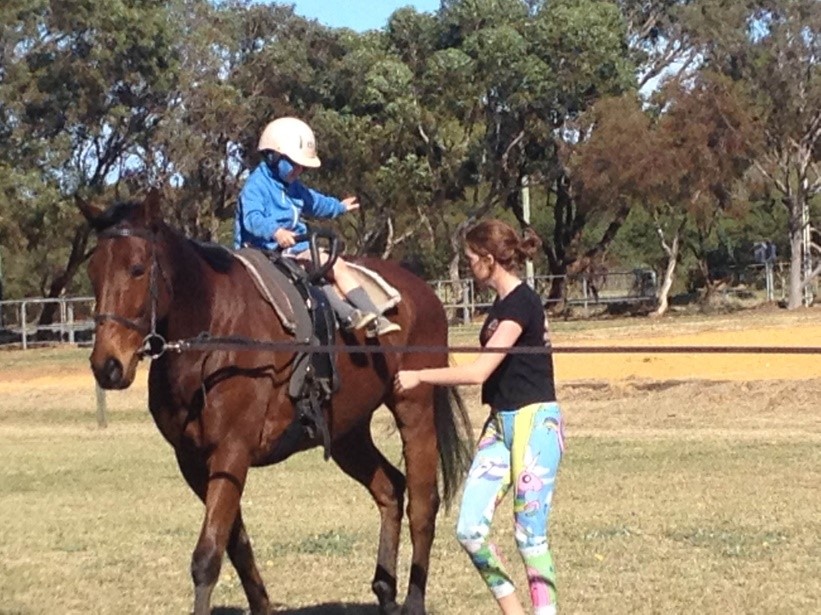 After lunch put on by GCEC we were off and running again. Practising a PDD drill on the barrel to show what teamwork can do and some fitness and balance exercises with fit balls, handles and poles. Again the vaulters gymnastic skills were evident with someone doing a one handed walk over. Back on to the horse for the PDD drill and suddenly 21 vaulters were working together with some people of whom they didn't know at a sport they were just learning about. It was amazing to watch. With a short time to spare we split the vaulters into two groups again - some did team games on the barrel and others had another canter on the horse. 
The general consensus was that it was fun and they asked us back again this year. I couldn't have been happier.


Day 12 - Sunday 19th July
We were up, packed, and left in the dark, wanting to be home by lunchtime. We spent the drive reliving an amazing 12 days. Cambridge and Jane planned to return to Carnarvon in the next holidays to help Ainsley, the vaulters, and Bratz keep going and hopefully come to our States Championships in November. Messages came from Robyn saying her girls had not stopped talking about it and would love to have us back. Wendy said that she had aleady had plenty of enquiries and she would pass them on to me.
Greeted by our families and telling them all about our adventures, I realised that we were recipients of our aims also. We were working as a team with people of all ages and abilities; we developed our fitness, grew in self-confidence, and made friends, IN SUCH A FUN WAY.


Finally
I have learnt so much from this trip and hope that I can take it forward and improve on the next one. But probably the most important is
Have more than three CD's in your glove box when you leave.
Make sure one of those is not REECE MASTIN!
I need to thank the Department of Sport and Recreation for this opportunity. Thank you to Ainsley Evans, Robyn Cook and Wendy Sutton for their support in their areas. Thank you to Jane Beaverstock and Cambridge Keane for doing this with me. And to Arrow and Mak - good job guys!



Kay Fowler
Ripplebrook Equestrian Vaulting Academy Coach