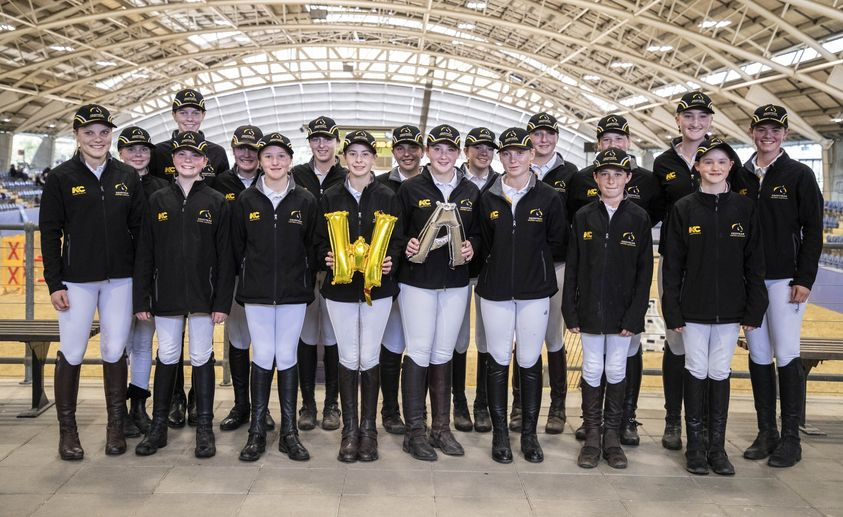 Celebrating Team WA at one of our most successful Interschool Nationals ever
Team WA celebrated one of our most successful Interschool Nationals Championships ever with a number of exceptional performances at last week's event in Sydney.
The highlights of our tremendous campaign saw Noah Woodyer (Combined Training 60cm Primary) and Ruby Rae (Combined Training 95-SEC) become National Champions in their respective classes. Ruby's achievement was made more extraordinary by the fact she claimed the title on a pool horse.
In other amazing performances, Sophie Morrison was Reserve Champion in Combined Training 60cm Secondary and Shania Benbow finished as Reserve Champion in the Secondary Elementary, with both competing on pool horses.
Our Senior Combined Training Team consisting of Ruby Rae, Sophie Morrison, Erin Greenwood, Erica Bell, Bella Day and Lateesha Coppin finished as Runners Up, the first time WA have been runner up in this event.
It should be noted that the majority of our 26-strong squad competed on pool horses. Their ability to perform the way they did in these circumstances is exceptional and something we are all incredibly proud of. 
Behind the scenes of the event, it was a remarkable effort and journey from a number of people to make Team WA's attendance possible.
Depending on the circumstance, some team members and their families flew over, while others chose to make the trek across the Nullarbor via road. Team WA also sent six horses over to Sydney thanks to the wonderful team at Combined Horse Transport. Thank you once again to drivers Glen and Chris, and also Wayne and John who make up the incredible team at Combined.
Equestrian WA also expresses our sincere gratitude and appreciation to our Team Manager Corien Ridley, who volunteered her time to make this an extraordinary experience for our team. Corien's efforts, which involved months of lead in work, included assisting the EWA office with general organisation of the squad, merchandise orders, draws, as well as liaison with Equestrian NSW and Equestrian Australia regarding pool horses. Corien was also on hand at SIEC to meet and greet our precious cargo once they arrived in Sydney and left the safe and reliable hands of Combined Transport.  
Corien was assisted in putting it all together by EWA Membership Officer Meredith Tenger. Meredith's commitment and dedication to Team WA includes her organisation of the State Interschool Championships earlier this year along with Lindsay Baxter. 
Equestrian sport's future in the state is in safe hands with our captain Chloe Gee and vice-captain Shania Benbow doing an incredible job in their roles. The squad were also very fortunate to have mentoring support from Corien's daughter Jessica, who has previously competed three times at the Nationals.
EWA also wishes to say thank you to Christine Bates for assisting us and ENSW to acquire pool horses. Without her we wouldn't have had half of them. Thank you also to Tina, Di, Linda, and Caroline from ENSW for their assistance and support before and throughout the event
Finally, congratulations once again to each and every one of our extraordinary Team WA squad members and their families! Your efforts, passion and dedication are amazing and the future of equestrian sport in our state is bright!
Stay tuned for more soon as we gear up for the State Interschool Championships in April next year. Following that, next year's Nationals will be held in Melbourne.
The full squad that represented WA at the 2022 Nationals is below:
Abby Green
Alivia Coppin
Alyssa Scott
Amelia McDonald
Amy Lethlean
Amy Lockhart
Bianca Ettridge
Chaise Fowler
Chloe Gee
Ella McCrum
Erica Bell
Erin Greenwood
Isabella Day
Isla Bolton
Krystina Bercene
Lateesha Coppin
Meg Fowler
Mia Avila
Noah Woodyer
Reagan Hughan
Ruby Rae
Shania Benbow
Sophie Morrison
Uma Sky Fisher
Zoe Purser
Team Manager: Corien Ridley
Team Captain: Chloe Gee
Vice Captain: Shania Benbow
Click below to see the full results:
Full Results
Dressage
Show Horse
Jumping
Combined Training
Eventing