COVID-19 Information for Equestrian Sport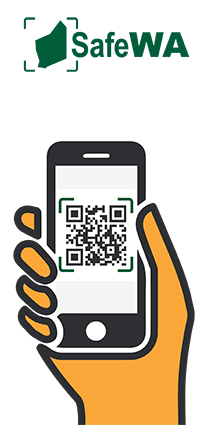 From 5 December 2020, particular businesses will be required to maintain contact registers for WA Health Department COVID-19 contact tracing, if required.
If COVID-19 is detected in the WA community, contact registers help to protect us all by enabling the WA Health Contact Team to quickly identify and assist anyone that may have been exposed to COVID-19.
To assist, the WA Government has developed a free app, SafeWA, which will provide businesses with a digital contact register system.
SafeWA is an efficient and safe way to record patron and visitor contact details where they can check-in, using the app. 
---
Sport and Recreation Update as at 30 April 2021
Please see the latest directions relating to COVID-19 and face masks that have just been confirmed by the Police Commissioner:
https://www.wa.gov.au/sites/default/files/2021-04/Face-Covering-Directions-No3_0.pdf
For sports that operate indoors, this will present some challenges for the week, and potentially cancellations. For sports and recreation operating outdoors, this should be some good news to get your fixtures back up and running.
Please ensure you visit wa.gov.au for all official information relating to COVID-19 or for feel free to contact [email protected] if you have additional questions.
---
Update to the Sport and Recreation Industry - as at 28 April 2021
As you will be aware by now, the Western Australian State Government has eased some of the restrictions relating to COVID-19. Following a short three day lock down the eased restrictions may still present some challenges for the industry over the next few days.
We aim to keep you as up to date as possible with the latest information but as we saw in the two previous rounds of restrictions, we need to accept the speed at which external decisions are made, the time available to consider the implications and then develop appropriate communications.
You and your members/participants will have many questions and it's important the answers are based on the right information. All general information should be sourced from www.wa.gov.au, which now includes the frequently asked questions which can be found at – https://www.wa.gov.au/government/publications/covid-19-coronavirus-transition-out-of-lockdown-frequently-asked-questions
At this stage there is no other information on what restrictions will be in place from 12:01am on Saturday.
All enquiries to our sport and recreation service area should be directed to [email protected]
---
To support the gradual restart of the equestrian activities, Equestrian WA has produced the following documents. These documents will be reviewed as WA Government COVID-19 restrictions are updated. 
 Equestrian WA COVID-19 Equestrian Protocols (updated 26.11.20)  
 Equestrian WA COVID-19 Activity Checklist (updated 26.11.20)  
 State Equestrian Centre Recommendations for Resuming Sport  
 Club Protocols for the Rebooting of Equestrian Sports in WA (updated 25.06.20)  
---
Additional links and resources:
COVID-19-Safety-Plan-Phase-4-Sport-and-Recreation_0.pdf 
COVID-Safety-Guidelines-Phase-4-Sport-and-Recreation_0.pdf