WA State Jumping Championships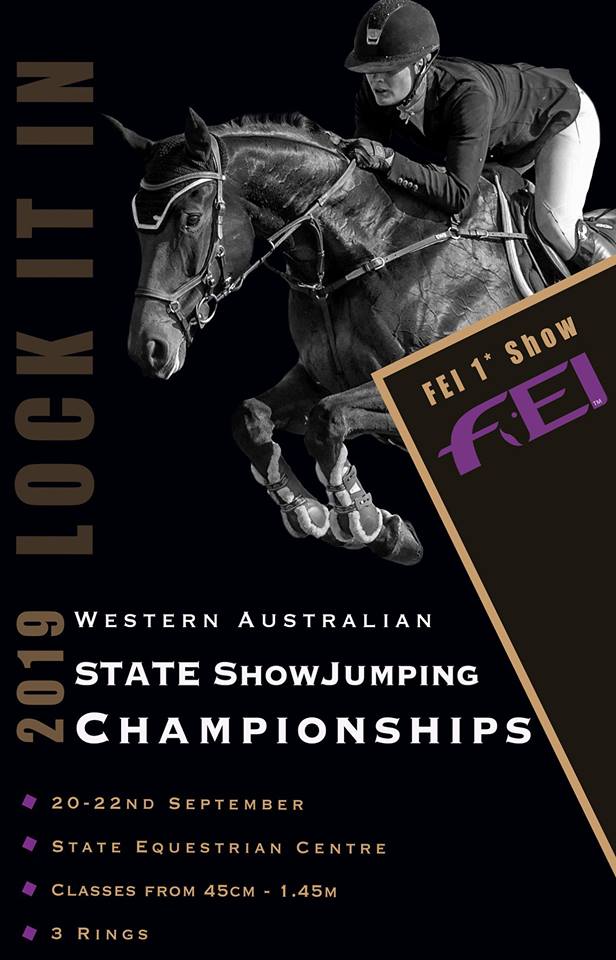 More than $37,600 of prize money, vouchers, rugs and prizes!!
DATE: Friday, 20 September– Sunday, 22 September 
VENUE: State Equestrian Centre, Brigadoon WA
ENTRIES OPEN 7.00PM, Wednesday 3rd SEP. 
ENTRIES CLOSE 10.00PM,FRIDAY, 13 SEP
DAILY CLASS START TIMES:
JUMPING WA ARENA
8.00AM: Fri, 20 Sep
7.30AM: Sat, 21 Sep
7.30AM: Sun, 22 Sep
KENTAUR ARENA
7.30AM: Fri, 20 Sep
7.30AM: Sat, 21 Sep
7.30 AM: Sun, 22 Sep
GRASSROOTS ARENA
8.30AM: Sat, 21 Sep
8.30AM: Sun, 22 Sep
JUMPING WA ARENA 1  (Grass)  including Speed Derby, State Junior, Young Rider, Rising Stars, Mini Prix and Senior Championships
KENTAUR AUSTRALIA ARENA 2 (Grass) 80-1.15M
MP GLOSS PRODUCTS GRASSROOTS ARENA 3 (C Quest sand/synthetic surface) 45-90CM


Entry Information including class changes and scratchings Nanette 0417 902 734
General Event Information Sara Botten 9296 1200
ALL ENQUIRIES PLEASE USE - [email protected]


CONDITIONS OF ENTRY
2019 State Jumping Titles


CLOSE OF ENTRIES FRIDAY  13TH SEPTEMBER 2019 10 PM
Conditions of Entry
This event will run under EA/FEI rules.  The organising committee (OC) reserves the right to change or amend the program at their discretion.  All owners and competitors will be personally responsible for damages to any third parties caused by themselves, their employers, their agent or their horses.  
Conduct of the Organising Committee
The technical delegate, ground jury, officials and Equestrian Australia are responsible for ensuring Horse Welfare guidelines are observed.
Block Entry
There will be block entry for Junior, Young Rider and Senior Titles.  The Rising Stars, Amateur and Mini Prix will also be block entry.  The block entry for these championships/series will include one qualifying/warm-up class and a final class.
Scratching's/Refund of Entries
All scratching's prior to close of entries will be refunded in full less a $15 administration fee.  Once entries have closed, no refunds will be given unless a veterinary or medical certificate is provided within seven days of the event.  If a veterinary or medical certificate is supplied within the given timeframe 50% of entry fees paid will be refunded.
All other scratching's non- refundable.
Late entries will be accepted, they will incur a $10 late fee per horse.
Class changes/scratching's during competition must be submitted to the committee by 5pm the day prior to the competition.
Starts per horse
Horses/ponies may only start in a maximum of two classes per day in Arena 1.
Horse/ponies may have up to 3 starts / day in Arena 2 & 3.
Riders & Owners
All riders and owners must be current financial members of EA with no exception.  All horses and ponies must hold current EA registration card if competing in any official class above 105cm. 
Adult riders (EA Adult rider members are placed 1st to 3rd as Adult Riders in designated Classes) .
EA age Rules
1 Junior riders are considered juniors from the beginning of the calendar year in which they reach the age of 12 until the end of the calendar year in which they turn 18.
2 Young rider Riders are considered young riders from the beginning of the calendar year in which they turn 16 until the end of the calendar year in which they turn 21
3 Senior riders are considered senior riders from the beginning of the calendar year in which they turn 18
4  Open height classes riders my take part in open competitions 1.20m and above from the beginning of the calendar year in which they reach the age of 12
5  Amateur Riders Riders 21 and over who have never competed in an Olympic Games, World Equestrian Games in jumping or eventing, a Four star 3-day event or a World Cup jumping competition.  They must not have competed in Section 1 or 2 classes at any Australian Royal Show in the past two years.  Riders may not compete in an Amateur class if they or their horse competes in a class at this show where the first round is higher than 1.20m.  Riders may compete in both Amateur A & B classes, but not on the same horse:  Amateur B combinations may not compete in an Amateur class if they compete in a class where the first round is higher than 1.04 at the that show. 
Dress Code
Riders in all competition rings must be in correct dress unless otherwise instructed by the judge.  It is compulsory for athletes to wear a properly fastened safety approved helmet at all times whilst mounted.  
Stallions
The (OC) follows the EA Stallion Code of Conduct
Presentations
Presentations will be mounted, and riders must wear their correct attire.  Riders who are not available for presentations may forfeit all prize money.  Winners of classes may be required to participate in photo and media obligations.
Dogs
Dogs must be kept on a leash and under effective control at all times.  Dogs are not permitted in warm up or competition areas.
Failure to present
Failure to present for your class when called will result in disqualification from that class.  Draw order only unless competing multiple horses in different arenas.  Ring 1 takes precedence over ring 2 and 3.  It is the rider's responsibility to notify the gate marshal in the relevant arenas.
Hors Concours
(HC) there will be no HC non-competitive rounds.
Liability
Neither the committee nor the venue owner or lessees, nor any of their staff or agents shall be in any way liable for accident, injury, damage, loss or any matter that may happen for any causes or circumstances whatsoever, to exhibitors, competitors or members or their agents or to anyone on the grounds or to any animal or article exhibited or to any property brought onto the grounds or for any loss, claim, matter, circumstances or event whatsoever in connection with or arising out of or understood to be the WA State Show Jumping Championships or any journey to or from the event.  It is to be understood that under no circumstances shall the committee, its agents, or employees be liable for any loss, damages, claims or costs occasioned or suffered by any exhibitor, competitor or member directly, howsoever arising including without limitation losses damages claims or costs as a result of any negligence and you agree to indemnify and save harmless to the committee, the venue owner, lessees, their agents and employees from and against any liability about of any such loss, damages, claims or cost.
Nomination Conditions for Championship Titles 
A rider may not ride more than three horses in any one championship division. Junior, Young Rider and Senior titles.
Competitors, whose age allows them, may compete in two consecutive divisions ie Junior and Young Rider or Young Rider and Senior.
The Championship titles comprises of one qualifying competition, warm up for Young Riders and a Final competition.
Senior Titles riders and horses must be registered with the FEI $25 per registration.  This can be done on the EA website.  Please allow enough time before the show to have this done. 
Maximum heights for the competitions are:
| | | |
| --- | --- | --- |
| Division | Qualifier | Final |
| Junior | 1.15 | 1.20 |
| Young Rider | 1.25 | 1.30- |
| Senior | 1.35 | 1.40-145 |
| Rising Stars | 1.15 | 1.20 |
| Mini Prix | 1.30 | 1.35 |
Allocation of Points for Championship Titles
Placings awarded in qualifying rounds will dictate the draw for the Final. 
For example 1st placegetter will be last in the draw for the Final.
Competitors eliminated or retiring in a qualifier will start first in the final.
NJC Young Rider Selection
Athletes may be competitive on up to a maximum of three horses in the Young Rider competition.  In such cases the horse to be ridden for Young Rider points, must be declared 1 hour before the start of the competition, notifying the OC and the athlete must ride this horse first.  Once the competition has begun an athlete may not change their Young Rider horse.
Saturdays warm up class for the Young Riders will not dictate the draw for the Final on Sunday.
Rising Stars/ EWA Bronze Series
The Rising Stars /EWA Bronze Series is for horses with under 20 points at the close of entries.  Each horse's points will be checked with the National Data Base an incorrectly entered horse's will be removed from the class without refund.  All horses must meet the criteria at the time of entries closing.  Horses that exceed the stipulated points during the series will be eligible for the qualifiers and the Final. Qualifying round results will dictate the draw for the final.
Mini Prix
No restrictions- qualifying results will dictate draw order for the Final. 
EWA HOTY / Riders Cup
A Horse competing in the HOTY/Riders Cup cannot start in the Bronze Series/Rising Stars. 
This Class includes a leading Male and Female Rider to be presented.
EWA Novice Series
The Novice Class is open to horses with 6 points or less at the start of the show.
Young Horse Classes
Young horse classes will be run as per the article listed.
Horse's age is as of the date of competition. 
A special "Judges Choice" Style winner will be awarded for each age group. 
All horses will be videoed and the videos will be sent to an independent judge to be viewed and he/She will select a style winner. 
Trot Up – The trot up takes place the day preceding the FEI class (time to be determined by the committee) As per FEI Jumping rules 2019 Article 280 – Veterinary Examinations, Horse Inspections and Passport Control.
FEI Rules – FEI Jumping Rules 2019
Objections and Appeals:
Protests and Appeals Objections must be in writing and accompanied by a fee of $100.00 to the (OC)
The WA State Jumping Committee (OC) has the right to change or amend the program at their discretion.